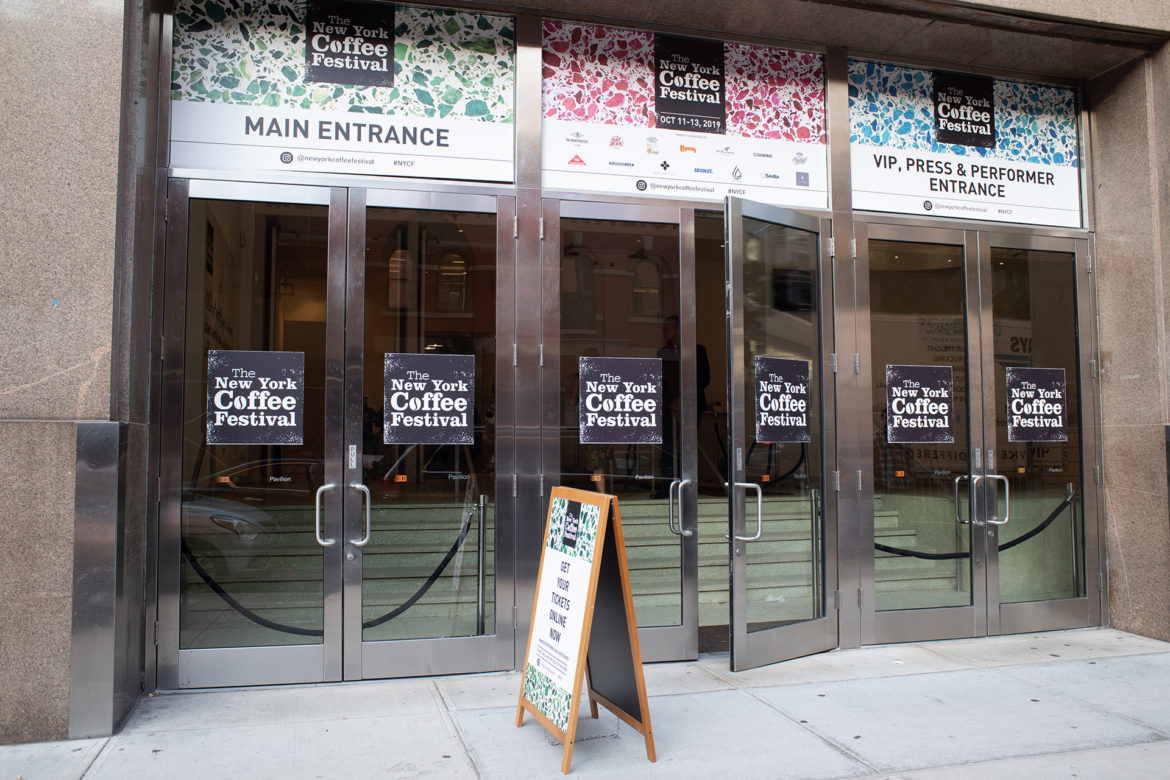 We came. We saw. We slurped, spro'd and shotted. The 2019 edition of the New York Coffee Festival was perhaps the event's biggest, best running yet here on American shores. Long a staple of the London specialty coffee culture thanks to the wildly successful London Coffee Festival, the New York edition of the event—like its sibling show, the Los Angeles Coffee Festival (November 8-10th)—brings a global energy to one of the world's great coffee scenes. The booths, the competitions, the art, the films, all of it buzzing with Manhattan energy.
Whether you trekk'd in by subway from 15 stops deep in Brooklyn, or had your chauffeur waiting in the private subterranean carport of that quiet little Tribeca loft you call home, there was something for everyone at the NYCF. Here's a few of our favorite moments from the 2019 edition of the New York Coffee Festival.
The Coffee Art Project
Art! Yes, art. There was a lot to see and try at the festival, but everyone here on Team Sprudge were truly impressed by this year's exhibition of the annual Coffee Art Project. The brief is simple: "Artists that apply will need to submit a piece of artwork that represents a creative, unique and personal connection to the concept of 'coffee' or 'coffee shop experience.' The work submitted can be any form of art, providing that it has a justifiable conceptual link to coffee or coffee shop experience." In execution that meant evocative vistas of coffee farms at origin, playing cards reimagined in a coffee milieu, portraiture of coffee drinkers from around the world, and best—indeed, most striking—of all, a tribute to New York Yankee legends made entirely out of coffee beans. Not every coffee festival is also an art festival—it's something we keep coming back to at these events around the world.
Learn more about the Coffee Art Project here. 
Roast Masters + MCs
Which host boasts the most roast? The Roast Masters tournament made its North American debut at the 2019 New York Coffee Festival, pitting ready roasters against each other in a browning battle royale. Expertly MC'd by NYC coffee heroes Erika Vonie and Ezra Baker, with judging overseen by Anne Lunell, Alexandria Dancy, Ben Kaminsky, and John Coyne, an incredible quorum of 25 coffee companies put their roasts to the test across three action packed days.
In the end, the team from Elixr Coffee in Philadelphia proved triumphant! A huge congratulations to Elixr Coffee, and stay tuned for our exclusive interview with the 2019 Roast Masters champs right here on Sprudge.
Oatly
Allow, if you will, for this brief personal vignette from inside the NYCF showfloor.
Scene: Opening morning of the festival. The floor is starting to fill up, and every booth is open, but before I can even really begin to comprehend all the coffee, first I need… some coffee. And then, glowing before me as if placed there by some divine being, was the Oatly booth, a wonderland of creamy oat beverage product ready to be steamed and combined with espresso in a delicious dance of plant-based pick-me-up. I just so happened to approach while Equator Coffees was the on the bar, which meant that I, yours truly, was treated to a luscious, delicious, creamy macchia-oat-o that nearly brought me to tears. It wasn't just the best coffee of the morning; it wasn't just the best coffee of the festival; it was my favorite coffee I drank all week long in New York. Believe it.
Wax & Gold 
Not to be outdone by the art show, NYCF was also home to a rolling film festival. We found ourselves bouncing back to the film room again and again throughout the show, to check in on the beautiful films on offer. None cooler than Stumptown Coffee's remarkable Wax & Gold, a film journey to the coffeelands of Ethiopia, exploring the country's endless overlap between the twin cultures of coffee and music.
Tea
Tea, it turns out, is good! And tea was well-represented at the 2019 NY Coffee Festival. I found myself returning again and again to the charming Spirit Tea booth for kegged tea cold brew and whatever other delicious stuff co-founders Jordan Scherer and Taylor Cowan were steeping up. Just a few stalls away, the gang at Rishi Tea had their own take on delicious tea offerings, including some fresh whipped ceremonial grade matcha and truly delicious oat milk chai drinks, fresh steamed on handsome La Marzocco Linea Minis.
On a seperate but not entirely unrelated note, yes, we're doing Tea Week again in 2019—folks keep asking, which brings us joy. Stay tuned!
Latte Art Live
New York City is home to a ferociously active semi-professional latte art scene. Players compete for cash, glory, and Instagram followers. No holds or pours are barred.
This level of action and intensity was center stage for Latte Art Live at the 2019 New York Coffee Festival, including the 2019 Latte Art East Coast Championship presented by Blue Stone Lane, to battles of Latte Art H.O.R.S.E. and a Latte Art Pro-Am presented by Rec Coffee, to demos and instructionals led by NYC coffee gliterati like Ujae Lee, Jenna Gotthelf, and Emilee Bryant.
The milk? It was put in the cups. The pours? The were textured, they were layered, they were steam dreams of milk art. It all happened, and it was everything.
KeepCup
KeepCup's exhibition at the 2019 New York Coffee Festival had us screaming for more. These retro colorways? Those new product drops? This is much more than just a reusable coffee cup—it's fashion, darling, and we're living for it. Watch for an exciting slate of new releases from KeepCup just in time for AW 19 and the 2019 holidays!
We could go on, but instead let us take a breath—we'll be back in a few short weeks with more coverage from the from the 2019 Los Angeles Coffee Festival. Get your tickets today, and we'll see you in LA.
Photos by Zachary Carlsen and Jeremy Hernandez for Sprudge Media Network. 
Disclosure: The 2019 New York Coffee Festival is presented by Allegra Events, and an advertising partner on the Sprudge Media Network. 
The post A Few Of Our Favorite Moments From The 2019 New York Coffee Festival appeared first on Sprudge.

Source: Coffee News