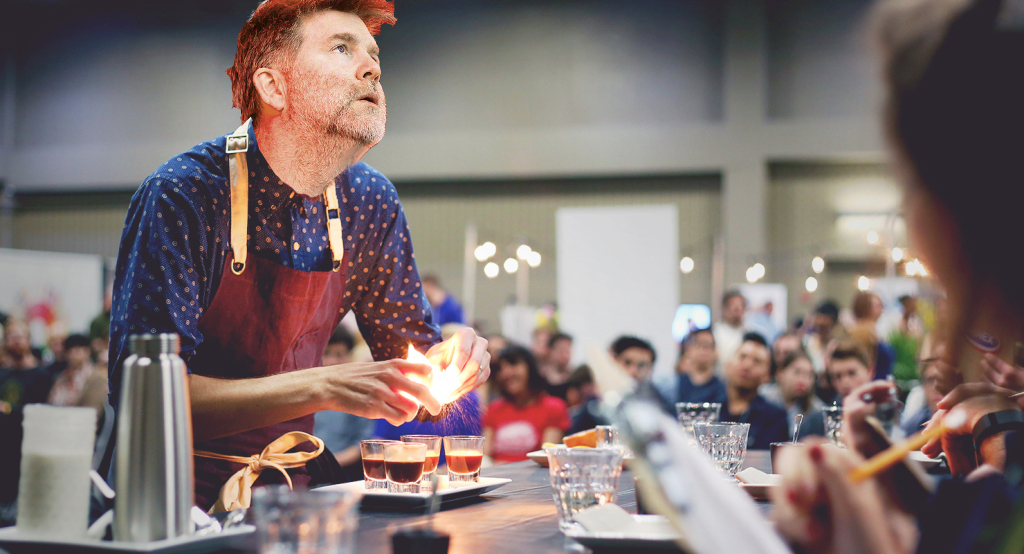 The LCD Soundsystem is blasting full stereo today on the Sprudge family of networks. Over on Sprudge Wine, we just published an interview with Justin Chearno of The Four Horsemen in Brooklyn, which he just so happens to co-own with LCD Soundsystem frontman James Murphy. And panning out wide to the coffee side—though not too wide because it will literally be next door—is news of Murphy's cafe Daymoves opening this week.
As reported by Grub Street, Murphy is opening Daymoves along with the entire Four Horsemen ownership crew: Chearno, Christina Topsøe, and Randy Moon. And Murphy's ties to coffee go beyond simply being the leader of the band that makes up a disproportionately large amount of your barista competition routine soundtrack. His coffee love—along with his rather impressive home setup—is "well-documented in Shut Up and Play the Hits," a documentary about LCD Soundsystem's final show (before getting back together), and Murphy even created a signature espresso blend with Blue Bottle. (Fun fact about me: I often conflate James Murphy and Blue Bottle founder James Freeman for no particular rhyme or reason. Sometimes I even mix in a Hoffmann for good measure. A James is a James is a James, I guess.) There have even been rumors that while on tour, LCD Soundsystem would local specialty coffee shops to set up would-be pop-ups backstage.
Scheduled to open tomorrow, Thursday, September 19th, Daymoves will feature coffee from fellow Brooklynites Sey Coffee and Coptic Light as well NYC's Café Integral. Per the article, the new coffee spot wants to stray away from the "high-volume, get-up-and-go cafe." Nor is it meant to be a remote office for the workaday crowd. It's a shop "made for lingering," which will include listen to records from Murphy's personal collection on oversized speakers of his own making while enjoying a pastry from L'imprimerie. The cafe will "start serving some dishes from Four Horsemen chef Nick Curtola" in the coming weeks as well.
The plan for the space is to be an all-day cafe of sorts, with Daymoves transitioning into Nightmoves—named for that Bob Seger song you liked ironically when you were in your early twenties only realize much later that it's actually just a really fucking good tune—featuring a selection of natural wines from The Four Horsemen's list as well as cocktails, mocktails, and potentially even negronis on tap.
The Nightmoves portion of the space is still very much in flux, with no official date for when it will be implemented. But Daymoves is set to kick off tomorrow, September 19th at "approximately 8am," per their website. So if the coffee starts wearing off tomorrow and you feel like you're losing your edge, take all your friends or maybe just someone great and head on down to Daymoves.
Zac Cadwalader is the managing editor at Sprudge Media Network and a staff writer based in Dallas. Read more Zac Cadwalader on Sprudge.
The post Daymoves: LCD Soundsystem's James Murphy Is Opening A Cafe In Brooklyn appeared first on Sprudge.

Source: Coffee News