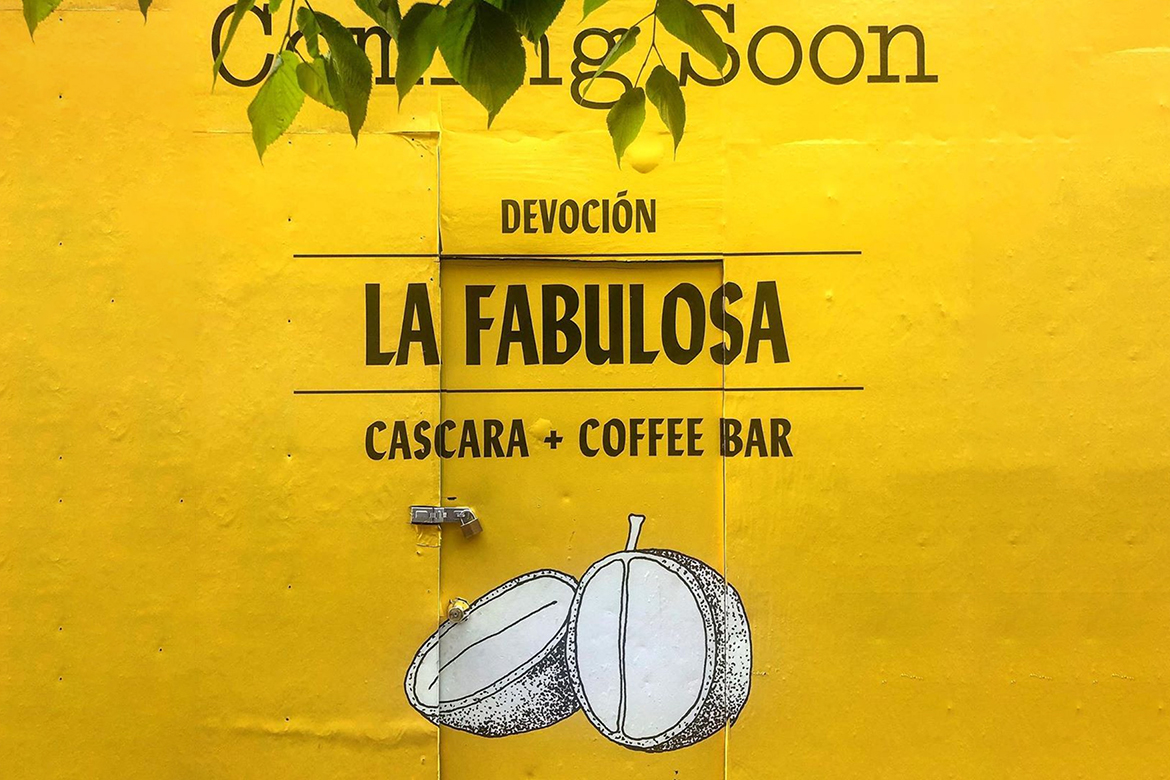 Cascara has been having quite a moment over the past few years. Originally, the fruit and skin of the coffee seed was by and large seen as a byproduct of the coffee-producing process, one that at best made it to compost to feed the trees from which they came. Then someone somewhere along the way realized that folks at origin, particularly in Bolivia, were drinking a tea made of the coffee cherry and thought, "maybe there's a market for this." There was. Now, the "byproduct" can sometimes fetch a higher price than the coffee seed itself. It was even banned—albeit briefly—in the UK; there was even rumo(u)r of some back alley cats peddling cascara to any coffee peeps with a spare quid.
But even with the seeming ubiquity of cascara, it hasn't quite broken into the mainstream the way, say, a flat white has. But New York City's Devoción Coffee is putting the cherry front and center with their brand new cafe, a cascara bar.
Opening on September 9th inside The Nomad, the Devoción Cascara + Coffee Bar is "the first concept in the world devoted to the coffee cherry," per a press release announcing the location. The 500-square-foot, four stool cafe will be Devoción's fourth location and there will of course be a full range of coffee beverages, but the main attraction is cascara. The cafe will have no less than four different expressions of cascara on tap: original, ginger lemon, cherry, and cassia lime. There will also be a baked goods menu that includes a "rotating option made with cascara" that was designed in collaboration with Chef Carolina Santo-Neves of the now-closed Comodo.
To celebrate the opening Devoción Cascara + Coffee Bar will also have on the menu for their first week a cascara ice cream affogato. During that same timeframe, Devoción will be donating all proceeds from beverage sales at their cascara bar to install a post-harvest processing lab at IED Escuela Normal Superior de Gachetá in Colombia, where students and teachers will be able to learn how to make specialty coffee.
For more information about the opening, make sure to follow Devoción on Facebook and Instagram.
Zac Cadwalader is the managing editor at Sprudge Media Network and a staff writer based in Dallas. Read more Zac Cadwalader on Sprudge.
Top image via Devoción
The post Devoción Coffee To Open First Of Its Kind Cascara Bar In New York City appeared first on Sprudge.

Source: Coffee News