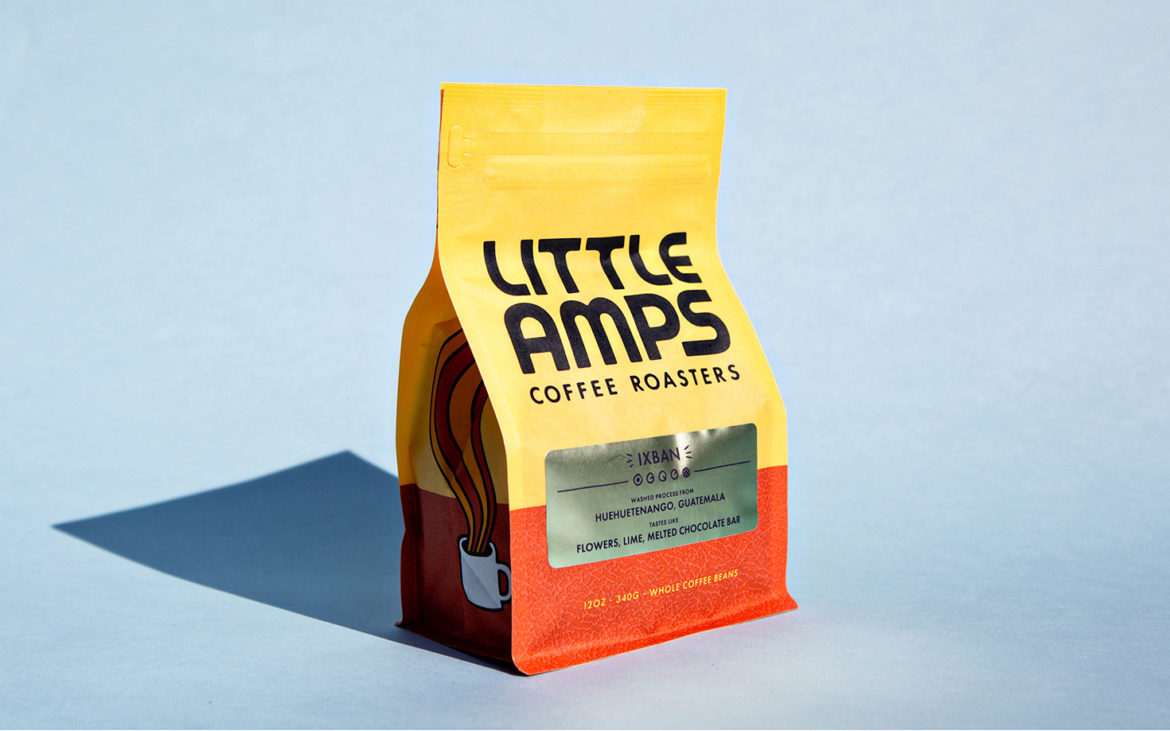 Harrisburg's Little Amps Coffee Roasters revamped their packaging this year in a big way. The company ditched its signature black ink on kraft look for something a little brighter. Bold colors, illustration, and a touch of gold give Little Amps coffee bags a lot of life. To find out more, we connect with Partner and Wholesale Manager Peter Leonard.
When did the design debut?
June 2019
What's different about the package?
So much!! We've had the same logo in black ink on brown kraft bags since day 1, with minor upgrades over the years to the packaging and application. We're now feeling more contemporary, with a biodegradable bag, updated logo, and lots of color!
Who designed it?
The design started in the brains of myself and business partner Aaron Carlson and was brought to life by Lancaster, PA graphic designer and illustrator Brandt Imhoff.
How long did this redesign take to develop?
We've been talking about this for a few years but started to seriously work with Brandt about a year and a half ago.
Why are aesthetics important for coffee packaging?
Why do I now willingly drink Miller Lite? It looks so good!! In 2019 most of our purchases are aesthetically driven, for better or worse!! It is our hope that our bags look as good as the contents taste. A big motivator for us was wanting to stand out on the shelves of grocery stores, coffee shops, and even people's homes. We wanted "eye-catching design." We also really wanted to convey the energy and attitudes of our company. We don't take ourselves too seriously. We like to have fun!
Where is it available?
You can find these bags in our three stores in Harrisburg, on our website, and with wholesale partners near and far!
Where is the bag manufactured?
The bag is from Tricorbraun, formerly Pacific Bag!
What type of package is it?
The bags are Biotre 1.0
Is the package recyclable/compostable?
The bag is 60% compostable. We reuse bags in-house and are also setting up recycling with Terracycle.
Thanks!
Company: Little Amps Coffee Roasters
Location: Harrisburg, PA
Country: United States
Designer: Little Amps & Brandt Imhoff
Design Debut: June 2019
Zachary Carlsen is a co-founder and editor at Sprudge Media Network. Read more Zachary Carlsen on Sprudge.
The post Coffee Design: Little Amps In Harrisburg, Pennsylvania appeared first on Sprudge.
Source: Coffee News