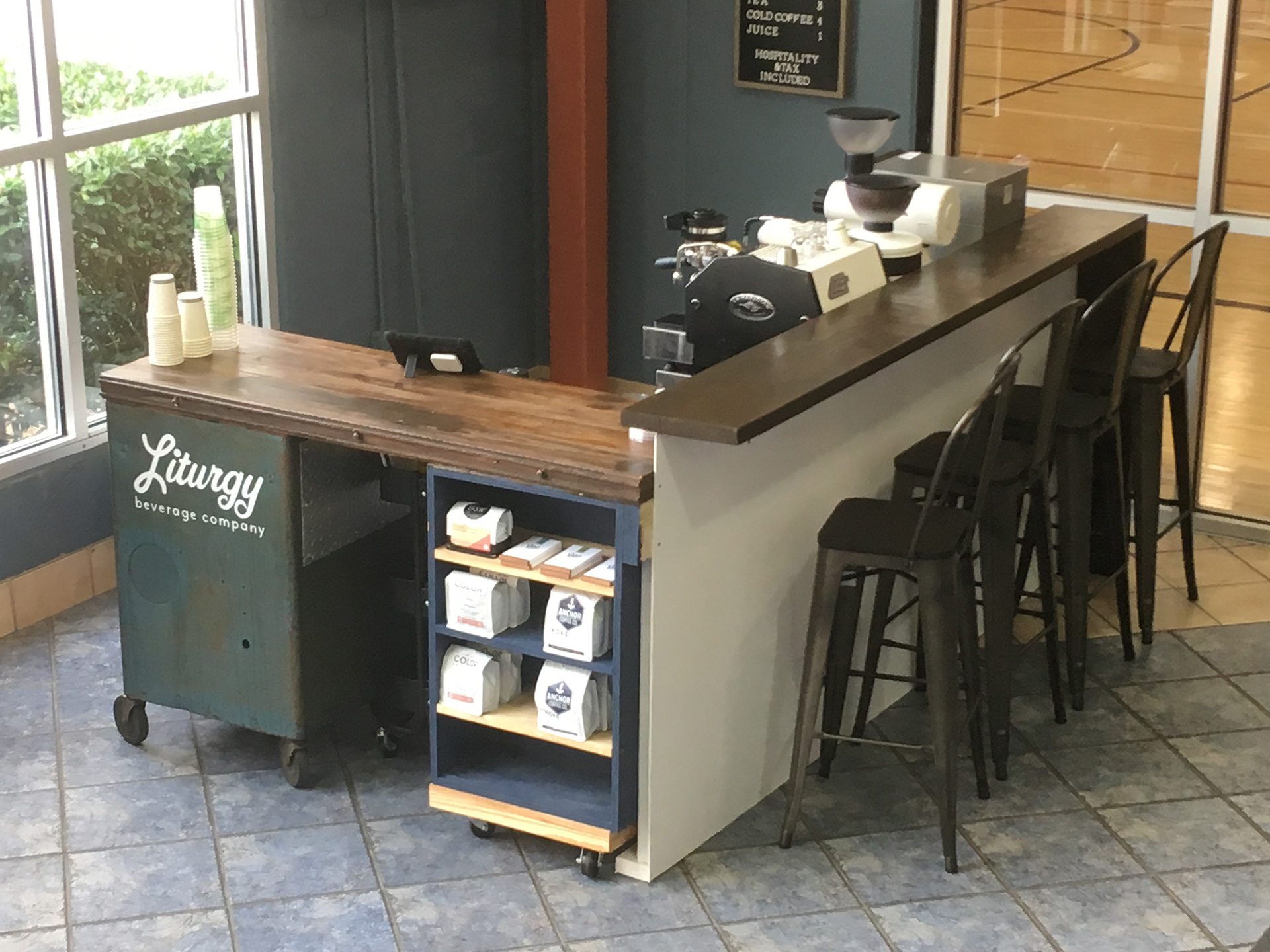 You know, there was once a time when I was in your shoes. I was uncaffeinated and down and out with the blues. But then I found a place, a very special place. It taught me that there was no need to feel down and that all I needed was some freshly brewed grounds to do whatever I feel. And the name of that place? Why it's Liturgy Beverage Company in downtown Durhman YMCA.
Originally a pop-up, Liturgy Beverage is establishing their first (semi-) permanent location at the Y, where they will serve all manner of coffee, tea, chocolate, and mocktails; there are just so many ways to have a good time! Currently featuring coffees from Black & White Coffee, Sweet Bloom, Heart, Anchor Coffee Co, and Color Coffee Roasters, it's safe to say this multi-roaster keeps their pride on their retail shelves. So, if you'r looking for a coffee fix in Durham, there's one place you can go—nay, nay should go—and that place is Liturgy Beverage Company.
The 2019 Build-Outs of Summer is presented by Pacific Barista Series, notNeutral, KeepCup, and Mill City Roasters.
As told to Sprudge by Timothy Jones.
For those who aren't familiar, will you tell us about your company?
Liturgy Beverage is a specialty beverage company founded in Durham, NC in 2015. We primarily focus on serving specialty coffee, tea, chocolate, and creative non-alcoholic cocktails in diverse settings. Since 2015 we've operated a mobile business primarily doing pop-ups, events, and weddings. We are currently expanding into retail space and we are very excited about the future.
Can you tell us a bit about the new space?
We are partnering with our local YMCA here in Downtown Durham to create a new space for our neighborhood (including the Y's membership) to get great drinks. While we plan for the future we have a semi-permanent coffee bar set up in the lobby. We're open six days a weeks and serve a small but carefully curated menu of coffee, tea, juice, and some pastries.
What's your approach to coffee?
We approach coffee with simplicity and intentionality. We source coffees from a small number of roasting partners both local to NC and across the US. We look for coffees that have pronounced flavors and sweetness. We tend to appreciate roasting styles that highlight the inherent character and sense of "place" that each coffee has. Some of our current partners include Black & White Coffee, Sweet Bloom, Heart, Anchor Coffee Co, and Color Coffee Roasters.
Any machines, coffees, special equipment lined up?
We use a Mahlkönig PEAK and La Marzocco GS3 for espresso and we use a FETCO CBS-1131 and Mahlkönig EK43 for filter coffee, as well as AeroPresses for our rotating coffees.
How is your project considering sustainability?
We try to consider sustainability in a holistic way, starting with composting all of our organic waste, using commercially compostable take-away products and actively recycling. Because we operate entirely self-contained pop-up bars, we also use reusable water containers.
What's your hopeful target opening date/month?
We opened to the public on August 12.
Are you working with craftspeople, architects, and/or creatives that you'd like to mention?
We built out are space ourselves, but we are grateful to work with many great vending partners. We are proud to serve products from Spirit Tea, Videri Chocolate, Ritual Chocolate, and Strong Arm Baking.
Thank you!
No, thank you!
The Build-Outs Of Summer is an annual series on Sprudge. Live the thrill of the build all summer long in our Build-Outs feature hub.
The post Build-Outs Of Summer: Liturgy Beverage Company In Durham, NC appeared first on Sprudge.

Source: Coffee News