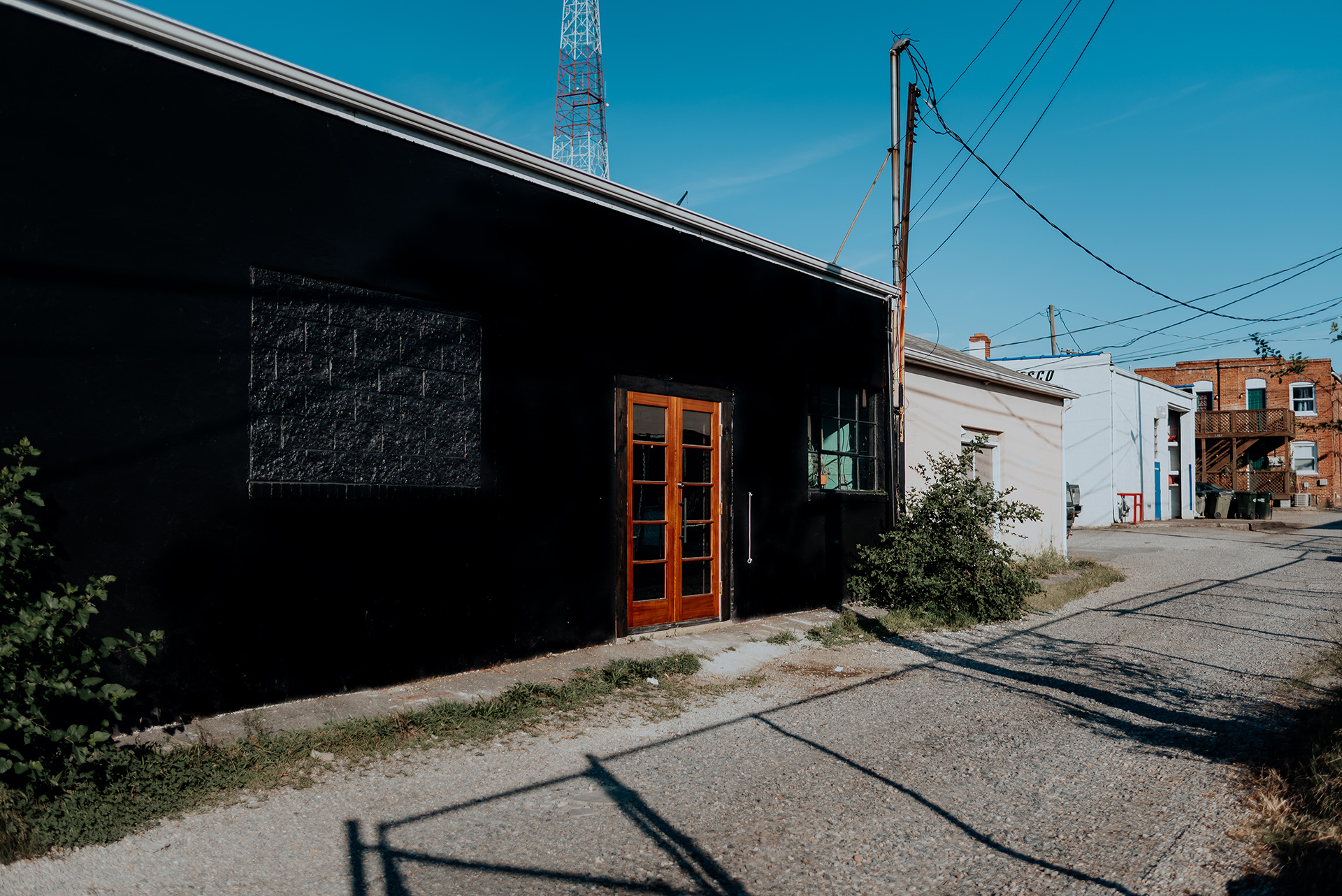 The Build-Outs of Summer train is about to pull into the station for a nice nine month sabbatical, but before it does there are still a ton of cool projects we're excited to share. One of those is the Recluse Roasting Project in the Scott's Addition area of Richmond, Virginia. Started by two industry vets who met way on the other side of the country while working together at Olympia Coffee, Recluse is the newest edition to an exciting scene developing in Richmond right now.
In many way, the roastery/cafe is true to its name. Tucked back a ways off the street, the space is brooding and moody thanks to the dark, reclaimed wood. And there are no seats, only a standing bar that focuses on "fast high-quality takeaway coffee." With moss and hanging greenery abounding, the space has a bit of an overgrown feel, but one that nonetheless adds an inviting touch. The word "vibe" gets tossed around a lot when talking about cafes, but Recluse definitely has a vibe all its own, and we're here for it.
The 2019 Build-Outs of Summer is presented by Pacific Barista Series, notNeutral, KeepCup, and Mill City Roasters.
As told to Sprudge by Aimee Biggerstaff.
For those who aren't familiar, will you tell us about your company?
Recluse Roasting Project is a specialty coffee company in Richmond, VA run by two coffee industry professionals Aimee Biggerstaff and Jack Fleming. They met while working for Olympia Coffee Roasters, where between the two of them have worked as baristas, managers, head roaster, and assisted with green buying at origin.
Originally from VA, when Jack left for Olympia, WA there was very little specialty coffee in Richmond. He had always planned on heading back to RVA to start a roastery. Aimee had already spent many years on bar and had developed a fascination with bar flow and hospitality, which grew into aspirations of someday designing her own coffee bar.
Fast forward a few years later to Jack and Aimee driving from WA state to VA with a trailer filled with a Diedrich IR-3, La Marzocco Linea PB three-group, two dogs, a cat, and everything they owned. Today they are a few months away from opening their coffee bar in a growing area of RVA.
Their goal is to source the best coffee's possible while paying the producers they work directly with two to three times "fair trade" pricing. Doing this allows coffee producers to afford to commit to organic farming practices, add welfare to their team by helping build more structural homes and rest areas on their property, offer food packages for their workers, along with one producer offering scholarships to young women who work on his farm.
Can you tell us a bit about the new space?
We're located in an alleyway behind a record shop in the industrial neighborhood of Scott's Addition in Richmond, VA. The coffee bar is an intimate space. It only takes up 500 sq ft of a 1,300-sq-ft space. The rest being used for roasting and production. The majority of the Roastery and Coffee Bar has been built by us with the help of our family and friends. We are proud to say that after so much hard work, our build out is estimated to be under $15,000.
Our cafe has a tarnished brass, moody, hole in the wall vibe with a lot of dark reclaimed wood. The space is filled with shelves that overflow with plants throughout the cafe. We liked the green walls against the dark wood because it reminded us of elements of nature like moss, ferns, and of course trees. The main bar has a concrete bar top and is framed out by refinished pallet wood. We have reclaimed wooden bleacher seats as our two additional standing bars.
There is no seating or lines in our cafe. Customers will be able to order anywhere at the bar, giving it a casual feel. We believe this type of service can improve efficiency and create a unique experience for the customer. To help with barflow we will have a mobile POS model where we meet the customers where they stand at the bar. The transaction can take place anywhere in the shop.
What's your approach to coffee?
We try to find and buy the best coffees we can. Over the years we've formed several relationships with producers while traveling that we're now able to work directly with. We are trying to work towards a model where all of our coffees will be bought this way. It is difficult sometimes, being as small as we are, but it is one of the main values for us as a business.
Before Jack was in coffee he worked as an environmental chemist. His background in chemistry and knowledge of basic food science helped create Recluse's roasting approach, which focuses on highlighting the natural sweetness in a coffee while showcasing a coffee's unique terrior.
We will be offering batch brew and flash brewed iced coffee from our FETCO. To help keep things simple we will be offering limited drink sizes. We wanted to be intentional with every detail especially ones that impact the customer experience. It all comes down to bar flow. We know if we set ourselves up with a proper "mise en place" then we'll be starting out strong. We are prioritizing fast high-quality takeaway coffee. For those who want to hang around we will have plenty of standing bar space where you can slow down and enjoy a break in your day.
Our main menu will be limited to the basics (brewed coffee, espresso, etc) for quick readability. We'll also have a rotating off menu that showcases the current coffees in our line up through unique drinks. Having a small bar vs a large sit down cafe allows us to really focus on the coffee and hospitality. There is something beautiful to be found within limitation. We may not have everything but what we offer is going to be delicious.
Any machines, coffees, special equipment lined up?
On our bar is a Linea PB three-group, a Mahlkönig EKK43, and two PuqPresses. We'll be predosing all of our espresso. All coffee will be brewed on a FETCO batch brewer. We're not opposed to making a Kalita when we are slow if a customer wants to try a specific coffee. There is a good chance we'll be opening with a slush machine if our build out is finished before the end of summer.
How is your project considering sustainability?
It's been a very DIY buildout. Roughly 50% of the materials used were reclaimed and repurposed. The front of our bar is all refinished pallet wood. All of which we collected from the breweries in our neighborhood. Our local Restore has been a huge resource for us as well. We bought everything we could from them including our beautiful mahogany doors. There is no easy access to affordable composting in Richmond therefore we will be partnering with local farms who are more than happy to take it off our hands.
What's your hopeful target opening date/month?
End of Sept 2019
Are you working with craftspeople, architects, and/or creatives that you'd like to mention?
We've been lucky to have the support of our family and friends who are super handy. They've helped with electric, building walls, and pouring so much concrete. Our good friend Jami Heinricher who owns Sherwood Press in Olympia has helped us significantly with designing our labels and making our brand shine. Also, we are working with an incredible local sign painter, Sarah Apple of Lucky Signs. She'll be creating our menu and exterior signage.
Thank you!
No thank you!
The Build-Outs Of Summer is an annual series on Sprudge. Live the thrill of the build all summer long in our Build-Outs feature hub.
Photos by Leah McDaniel
The post Build-Outs Of Summer: Recluse Roasting Project In Richmond, VA appeared first on Sprudge.

Source: Coffee News