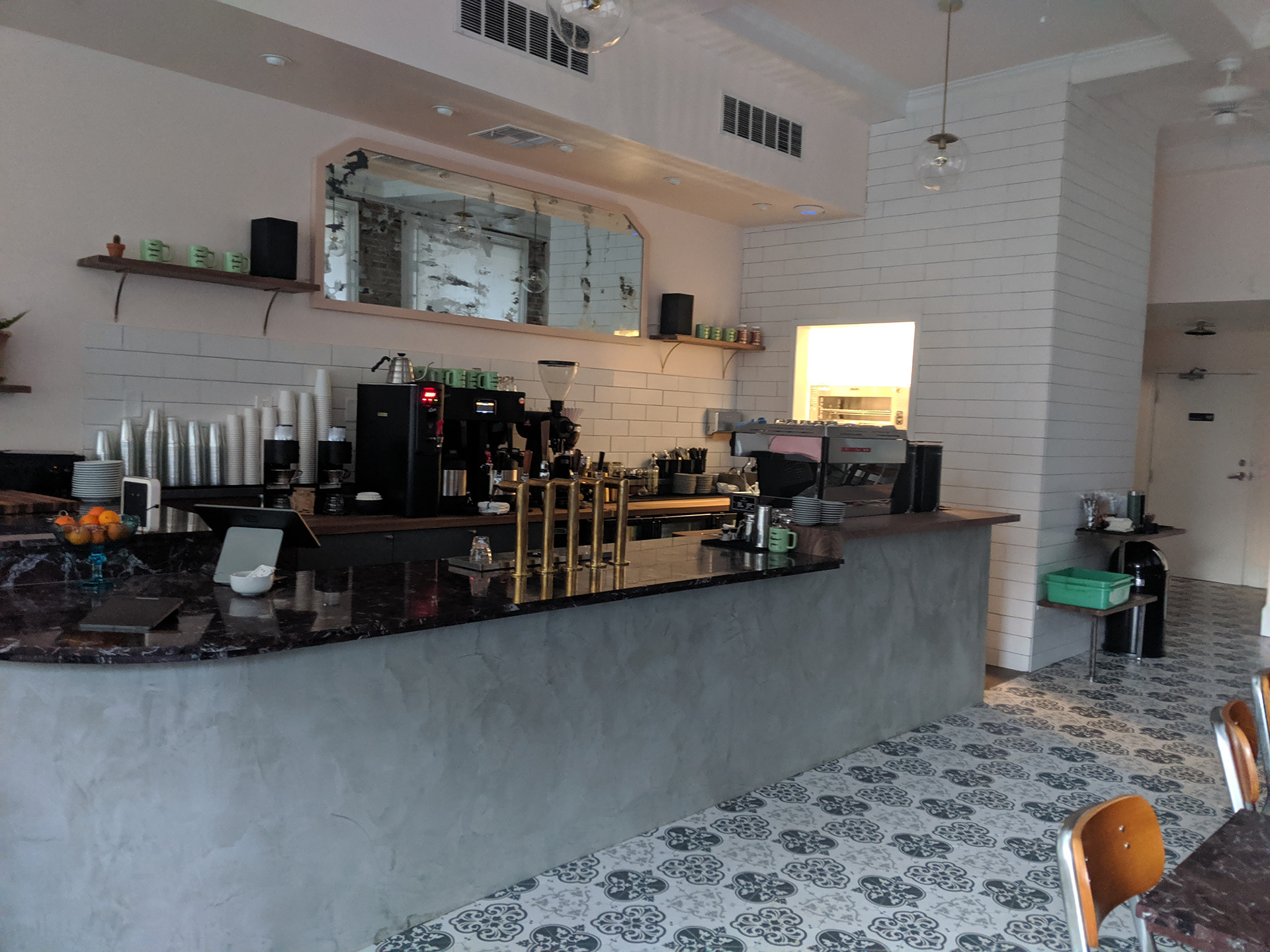 With the autumnal equinox but a few short days away, we're in the 11th hour of the Build-Outs of Summer, so we're heading to a place that has a bit of a summer feel to it all year round: New Orleans, Louisiana—The Big Easy—home to Congregation Coffee Roasters.
We've featured Congregation previously here on Sprudge, profiling their original Pelican Ave location. And now they are back with a brand new cafe. With the new spot, Congregation is looking at the all-day cafe model, starting off in the morning with a pastry-forward menu that transitions into more substantial noshes around lunchtime; think roasted pork and eggplant sandwiches on brioche buns. And I know this is a coffee shop, but how could you not get a sweet tea while you're there? Truly there are options aplenty, enough to justify a coupla three visits or so to the brand new Congregation Coffee Roasters in New Orleans, Louisiana.
The 2019 Build-Outs of Summer is presented by Pacific Barista Series, notNeutral, KeepCup, and Mill City Roasters.
As told to Sprudge by Elysha Rose Diaz.
For those who aren't familiar, will you tell us about your company?
Congregation Coffee Roasters is an artisan coffee company in New Orleans. Its name comes from the collective noun for a group of alligators. The company was founded by a New Orleans native and a transplant from coffee-loving Seattle, who hatched a plan to bring specialty coffee to the New Orleans area and beyond while working together at Cochon Butcher. They launched the company out of a shed behind a shotgun house in April of 2015, later moving to a full-size roastery and retail location on Algiers Point.
Can you tell us a bit about the new space?
The space at 644 Camp St has been a cafe, restaurant, and/or coffee shop since the 1800s, and Congregation is keeping that tradition alive with its second location. The newest outpost of Congregation offers a casual "all-day cafe" model, designed to offer a little something for everyone in the CBD, be it a grab-and-go coffee and pastry in the morning, or a relaxed sweet tea and breakfast sandwich for lunch!
What's your approach to coffee?
The company focuses heavily on crafting consistent blends as well as a wide range of single origin offerings for restaurant, wholesale, and retail. We believe in making specialty coffee accessible to the public, using thoughtfully designed flavor profiles that bridge traditional and modern trends in coffee. While most of our coffees fall in the spectrum of medium and light roasts, we are sensitive to the history that dark roast and chicory plays in our market, so we do our best nod to traditional palates while at the same time pushing the region's boundaries.
Any machines, coffees, special equipment lined up?
Since we forecast a high volume cafe, we went with a "tried and true" line up of equipment: La Marzocco Linea PB, Wilbur Curtis G4 Therma Pro and hot water tower, Nuova Simonelli G1 grinders, Mahlkönig EK43 filter grinder, and the Marco SP9 Twin pour-over brewers. The goal is to showcase our coffees without taking the barista's focus away from the customers.
How is your project considering sustainability?
For environmental sustainability we do all the things we can, like using post consumer recycled paper products, recycling our plastic/paper/etc, and being part of the local compost network for our grounds, chaff, and food waste. But we are also looking at another definition of sustainability, one that is rooted in the health and well being of our team. We decided to bring the "service charge included" model to our Camp St cafe so as to remove the power dynamic between service provider and guest. We hope it will help temper the mental exhaustion that being tip reliant can bring, and offer our staff a more stable, predictable income.
What's your hopeful target opening date/month?
We opened our doors on July 26th.
Are you working with craftspeople, architects, and/or creatives that you'd like to mention?
Co-owner Eliot Guthrie designed and built the 644 Camp St. cafe, but not without all hands on deck! We have some excellent creatives and craftspeople to thank:
Josh Musgrove with Matthews Construction
Silvia T Designs
Jeffrey Joslyn with Carrara Marble and Granite
Backroom Fabrics
And Prescott Trudeau. We thank all of you!
Thank you!
To all the folks who support us; especially through the hot air and high waters of this New Orleanian summer, we thank you from the bottom of our hearts. The appreciation is real, y'all.
-Team Congregation Coffee Roasters.
The Build-Outs Of Summer is an annual series on Sprudge. Live the thrill of the build all summer long in our Build-Outs feature hub.
The post Build-Outs Of Summer: Congregation Coffee Roasters In New Orleans, LA appeared first on Sprudge.

Source: Coffee News