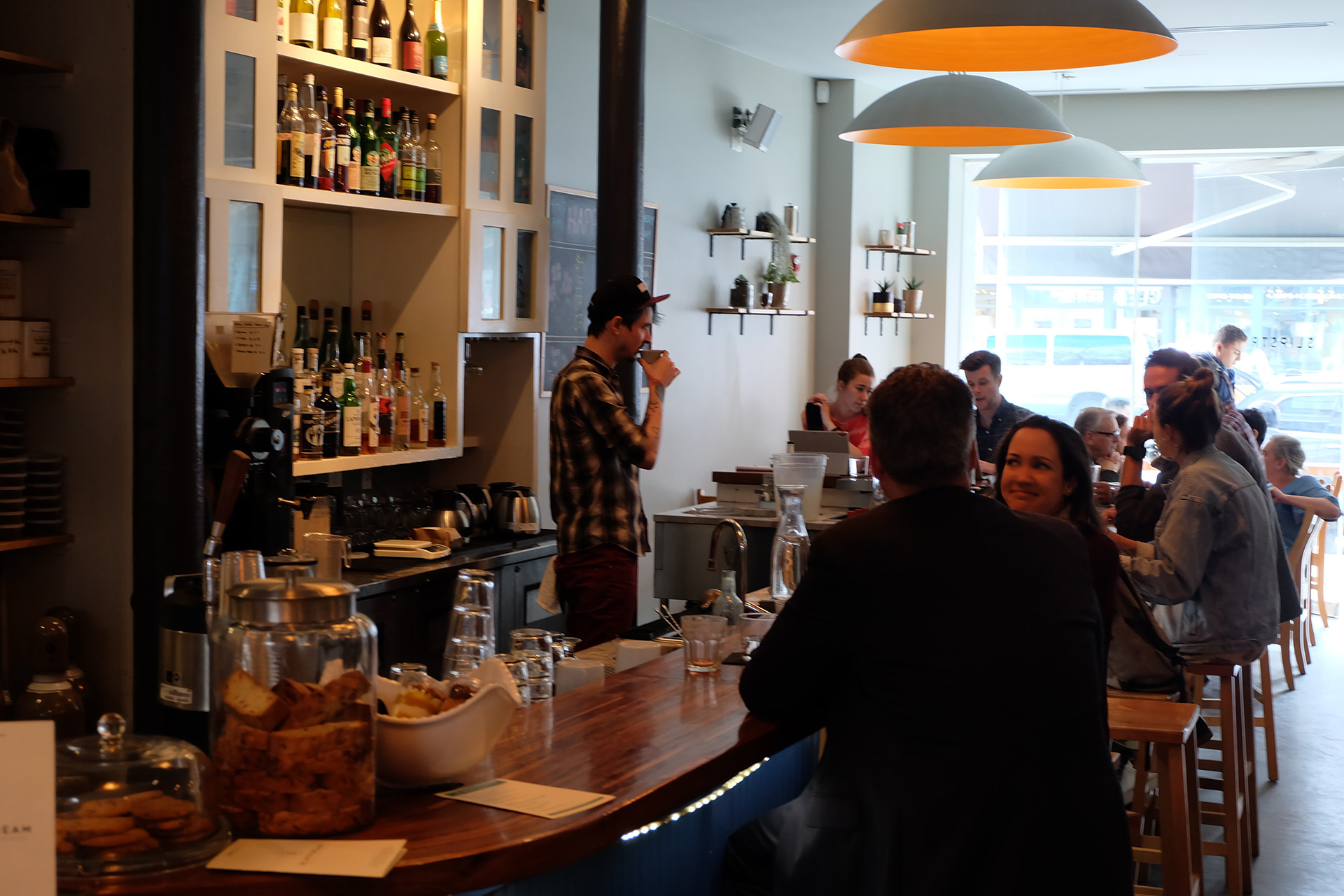 Washington, DC is a complicated city, the capital of a complicated country. But despite what lore may tell you—it's not all politicians, diplomats, and monuments here. Indeed, it's a thriving city with no shortage of diverse food, and more recently, coffee options. Whatever your pleasure, DC's coffee scene has grown into a landscape where anyone of any leaning can find the right drink in the right place. Here are some of the options.
Slipstream
A comfortably hip coffee and cocktail bar, Slipsteam is the perfect place to grab a light meal, a pick-me-up, or a nightcap. Dimly lit and sleek in design, the busy pace of this cafe is betrayed by its intimate feeling. The folks at Slipstream aim to make specialty coffee accessible to everyone. The coffee menu is clear and concise, divided into four distinct categories: Comfort, Bright, Fruit, and Floral. Madcap Coffee provides the house beans and additional guest roasters appear on the shelves frequently. Expect the clientele to be hunched over laptops during the first half of the day and having lively conversations in the evenings.
Colony Club
Capitalizing on cool, the Colony Club is an inviting coffee and cocktail bar with room to stretch out. The space itself is long and thin but boasts a second floor as well as ample outdoor seating. Most of the tables are communal which allows a more social experience than many modern coffeehouses. Sey Coffee fuels the batch brew and Heart Coffee Roasters the espresso. Pour-overs are available via Kalita Wave, or get a Chemex to share. If you're a ping pong enthusiast, you'll be happy to find a table upstairs for your enjoyment. Vibrant, energetic, and youthful, those lucky enough to live near the Colony Club have a stellar way to start and end their day.
Fox Loves Taco
Earning points for having the best combination of things ever, Fox Loves Taco is a cafe with solid coffee and delectable tacos on the menu (featured here as part of Sprudge's Build-Outs of Summer). Located by the Basilica of the National Shrine of the Immaculate Conception, this cafe offers its own divine experience.
The coffee program features Coava Coffee Roasters and Brandywine Coffee Roasters. The space is bright and cozy, and as makes perfect sense for an espresso bar/taqueria—is also shared with a bike shop. Sipping on an espresso while enjoying a smoked tofu taco will make you feel as warm and fuzzy as the shop's namesake.
Peregrine Espresso
Considered by many to be the area standard, Peregrine Espresso carries the torch of Washington, DC coffee culture in a steady hand. The company was born from a cafe love story and since 2008 the married owners have grown the business to three cafes and a sister roasting company, Small Planes Coffee, whose coffee is served in many of the surrounding coffeehouses. If you need a good cup of coffee and Peregrine Espresso is nearby, know that you are in good hands at any Peregrine location.
The Coffee Bar
As the coffee industry grows and changes, many are trying to shed the image of the surly barista. It sounds like a small thing, but bad customer service can make even the best of coffees taste sour, which is why The Coffee Bar's friendly staff struck me. They greeted patrons with a smile and were engaged throughout each interaction. Their Shaw area cafe is eclectic and bright, full of reclaimed artifacts and whimsical decorations. A multi-roaster cafe that features up to four roasters at a time, those who frequent The Coffee Bar are unlikely to get bored.
A Baked Joint
High-energy A Baked Joint is a serious bakery with a serious coffee program. A spinoff of popular DC cupcake-and-coffee spot Baked & Wired, A Baked Joint is an experience all its own. The focus on food (there's a full bread menu, along with breakfast, lunch, and pizza) is well met by a slate of quality coffee drinks, which includes a selection of boozy buzzes as well. The space is big, with tables and standing counters near the front and a comfy lounge area toward the back. It's hard to pigeonhole the vibe of A Baked Joint, but you'll find this place bouncing at all hours.
Kintsugi Cafe
If you're looking for a beautiful experience for both your eyes and your palate, this hotel cafe should be your next stop. Named after the art of repairing broken pottery with gold-infused lacquer, Kintsugi pays homage to creation through destruction. The design is sleek, with accents of black, gold, and polished wood—echoed in the Slayer espresso machine on the counter. Coffee is provided by Red Rooster Coffee of nearby Virginia. Treating yourself to an espresso here will make you feel both elegant and hip.
Tryst
Known as DC's living room, this 20-year-old institution has seen many a dissertation written, cured numerous hangovers, and been a home away from home to countless people. This huge, packed cafe is loaded with comfy couches and easy chairs, numerous laptops, animated conversations, and Counter Culture Coffee. Coffeehouses like this awaken long-forgotten desires to be a member of the Friends crew at Central Perk—but in DC, and real life. Equal parts cafe, restaurant, and bar, Tryst has all your needs covered.
The Wydown Coffee Bar
Beautifully designed, hospitality-driven, and perpetually bustling, The Wydown Coffee Bar on 14th Street seems to be everyone's pet favorite coffee shop. From the line out to the sidewalk, you might assume that a small coffee counter hides behind its doors, but inside you'll find multiple baristas manning pour-over stations, dual espresso machines, and an appetizing spread of pastries. This multi-roaster cafe features Passenger Coffee Roasters and is quick and efficient. If you are lucky enough to find a seat, the people-watching is superb.
Eric Tessier is a freelance journalist based in Providence, RI. Read more Eric Tessier on Sprudge.
The post The Sprudge Coffee Guide To Washington, DC appeared first on Sprudge.

Source: Coffee News