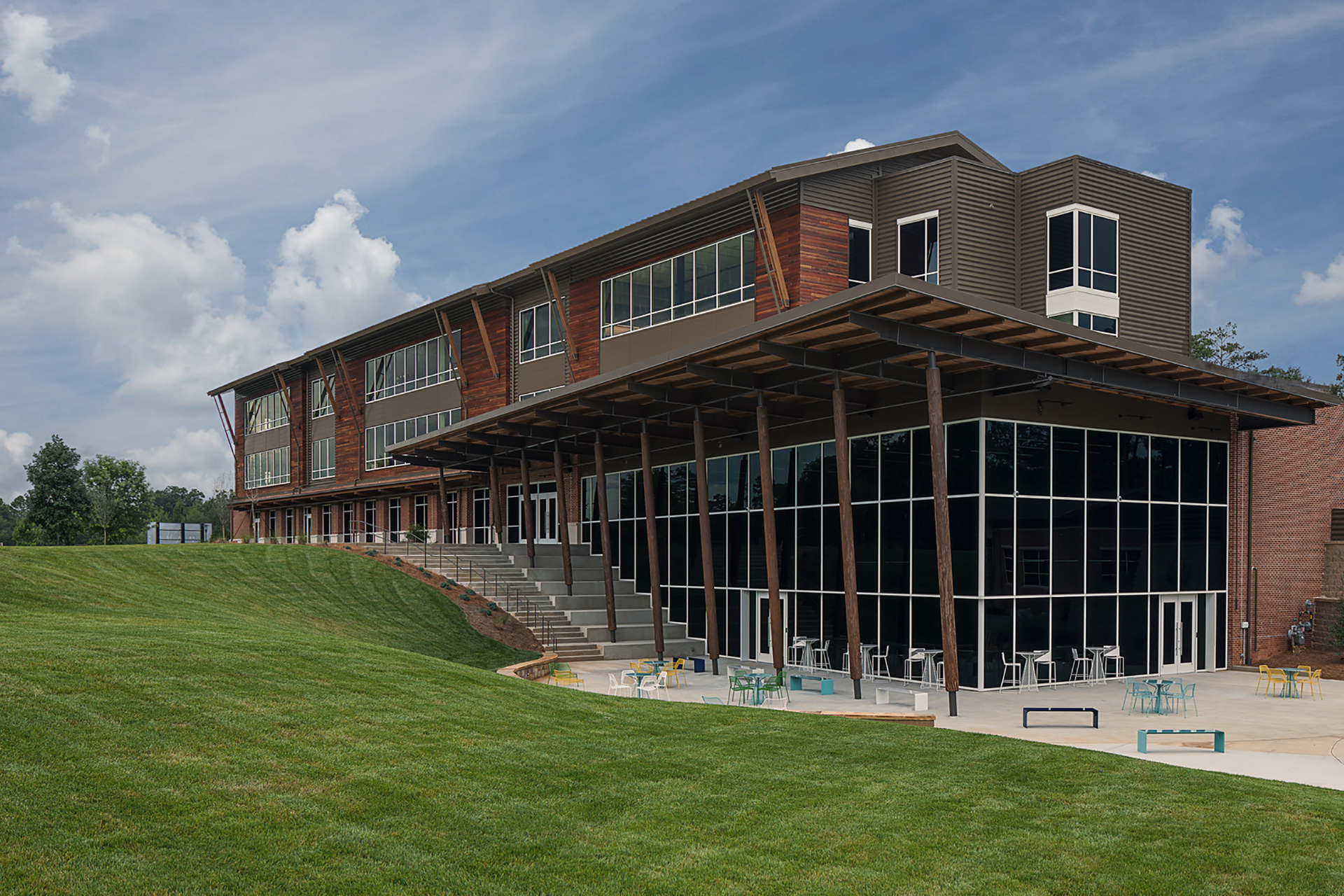 We've seen cafes in just about everywhere here on the Build-Outs of Summer, or at least we thought we had until today. In Atlanta, Taproom Coffee & Beer has teamed up with Mount Vernon Presbyterian School to put a coffee shop INSIDE THE SCHOOL. It's called Ground Floor Coffee and it's my dream come true, if but a few decades too late.
After working with Mount Vernon for various class projects, Taproom Coffee had the opportunity to pitch the administration on the idea of installing a full-service coffee bar, an idea that was "student-initiated;" even the name Ground Floor was created by one of the students. In the end, Mount Vernon agreed and now they are definitely the coolest high school around, at least based on any coffee-based metrics. At Ground Floor, they are creating the next generation of coffee consumer, and making me extremely jealous in the process.
The 2019 Build-Outs of Summer is presented by Pacific Barista Series, notNeutral, KeepCup, and Mill City Roasters.
As told to Sprudge by Jonathan Pascual.
For those who aren't familiar, will you tell us about your company?
We've had the original location of Taproom Coffee & Beer since 2014. Like a lot of other coffee companies, we strive for excellence in coffee quality and customer service. We are proud to have been there at the start of East Pole Coffee Co. (their founder, Jared Karr, was one of our baristas for our first two years of operation), and they have been our core coffee roasting partner ever since. Our main location juggles the identity of both coffee bar and draft beer bar (the draft tower is an old four-group Linea shell!) and now we've opened a new store with a completely different concept.
Can you tell us a bit about the new space?
Our new location is housed in the Upper School building of Mount Vernon, a private educational institution in the Atlanta area with over 1,000 students from 700+ families. The coffee bar is in the same building where high schoolers go to class, and right next to the cafeteria where students and faculty eat lunch. The coffee bar serves the campus community, so only students, parents, and Mount Vernon employees are able to purchase drinks at the coffee bar.
I had the opportunity to work with a handful of Mount Vernon students on a class project where they explored the idea of placing a full espresso bar in their new high school building. Over two years, I periodically visited their class and did mini-lessons on the coffee industry, cost of goods, profit/loss, and what equipment works best in an espresso bar. Those students also came to Taproom to see a specialty coffee shop in operation, and to talk through how they could apply the concept to their school. They ended up pitching the idea to the school administration, and when it came time for their new school building to break ground, they pulled the trigger and put the espresso bar in the official plans! So this was student-initiated, and is ultimately for the benefit of Mount Vernon students. They named it "Ground Floor Coffee Co." because students were in on the project "from the ground floor" and because of where the coffee bar is in the building.
We realize this is a unique thing to have in a high school, and we're really excited to explore possibilities of leveraging Taproom's presence for really creative educational experiences. Students could do work internships with us, we could be a testing ground for graphic design projects, and we could help fund student scholarships or at least contribute annual financial donations to the school. The doors are really wide open!
What's your approach to coffee?
Just like with Taproom, we want customers at Ground Floor to experience approachable, consistent, high-quality specialty coffee. Even though students will probably order more smoothies than cappuccinos, we're still maintaining our company standards of espresso training and technique, and we will happily engage in conversations about sourcing, process, roasting, and brewing. When you think about it, we're actively cultivating the next generation of coffee consumers—the high school students we serve are forming habits and concepts of specialty coffee that will carry through to their college years and the rest of adulthood. With an on-campus espresso bar and daily interaction with our baristas, they're getting four years of indirect specialty coffee education.
Any machines, coffees, special equipment lined up?
From our pop-up test run that we did last year, we knew that students would swarm a coffee bar before school and during lunch. To handle the volume, we installed a three-group La Marzocco Linea AV. We've also got a Nuova Simonelli Mythos One Clima Pro, Puqpress, Mahlkönig EK43, FETCO brewer, and Acaia scales, which is all the same setup we have running at Taproom. We have a sizable kegerator and are kegging and pouring "Nitro Flash" (our flash-brewed nitro iced coffee) alongside "Nitropical" (our nitro-infused tropical hibiscus iced tea). We're still partnering with East Pole Coffee Co. for all of our coffee used in espresso, bulk drip, and nitro iced coffee.
How is your project considering sustainability?
Our open area of the Mount Vernon Upper School building is surrounded by intelligent smart View Dynamic Glass. This glass monitors outdoor temperature, seasons, and cloud cover to tint to the most favorable environment for learning and sustainability. All of our hot cups are made from recycled paper through Georgette Packaging. Our straws for cold drinks are 100% compostable corn plastic. Mount Vernon students have reimagined the School's sustainability efforts during the construction of the new building launching a new campaign around the words Reclaim, Restore, and Recover.
What's your hopeful target opening date/month?
The opening of our new location coincided with the start of the new school year on August 13.
Are you working with craftspeople, architects, and/or creatives that you'd like to mention?
Mount Vernon has partnered with many innovative companies including View Dynamic Glass in Silicon Valley, the creative and talented makers and carvers from MJO Studios in Asheville, North Carolina, and Flik Independent School Dining. Joshua Charles, Creative Director at Flags of Origin, crafted the interior design of the entire building, furnishing the spaces with pieces from Hay, Bend Goods, Industry West, VS America, and West Elm. There are large-scale murals hand-painted by Chris Sturdivant. This new and unique Upper School building pushes all the limits of what school can look like.
Thank you!
You're welcome!
The Build-Outs Of Summer is an annual series on Sprudge. Live the thrill of the build all summer long in our Build-Outs feature hub.
Photos by Rikki Hagerty and Sarah Eaves
The post Build-Outs Of Summer: Taproom Coffee & Beer/Ground Floor Coffee In Atlanta, GA appeared first on Sprudge.

Source: Coffee News