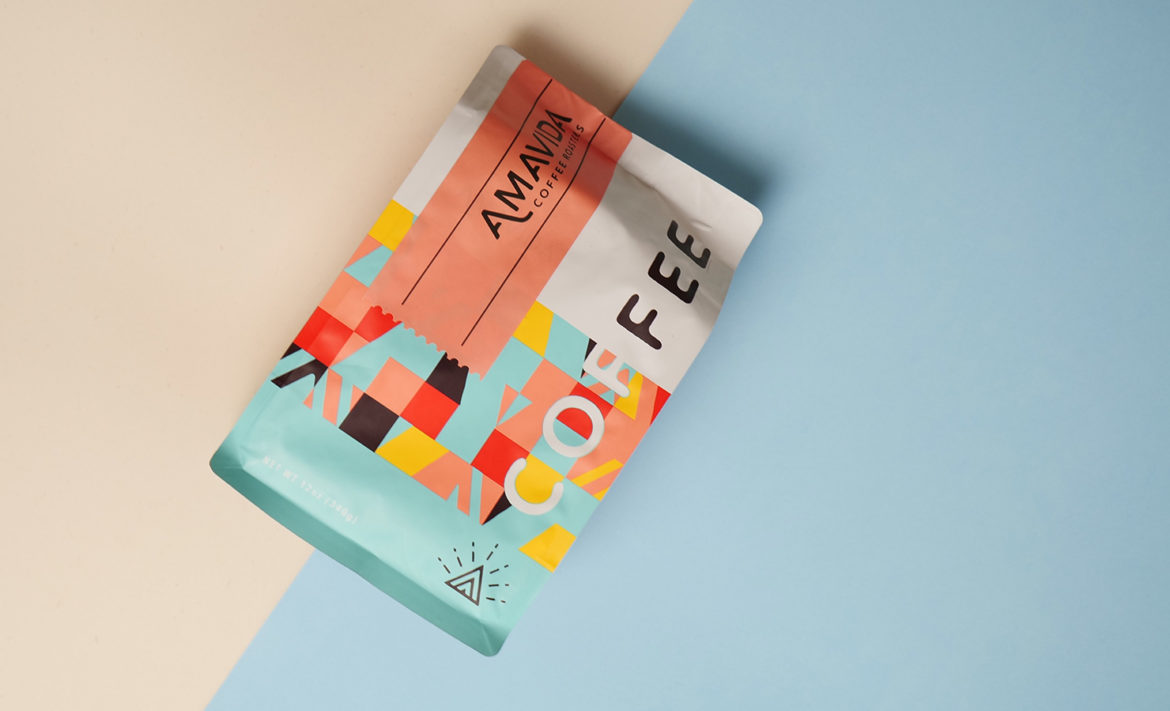 Florida coffee roasting company Amavida Coffee Roasters debuts new branding this season. Amavida Coffee teamed up with designer Kevin Tudball in early 2018 and launched the fresh new look in September of 2019. Tudball has worked with various coffee companies over the years—Verve Coffee, Steeped Coffee, and Truce Coffee to name a few. The refresh goes big on bold patterns and eye-catching colors. "Everything relates back to a coastal warm palette," says Tudball.
We spoke with Amavida's Martin Trejo, Dan Bailey, and Jennifer Pawlik to learn more.
Tell us a bit about Amavida Coffee and how it's grown in the last fifteen years.
Amavida Coffee Roasters started in 2004 as an importer, roaster and purveyor of ethically-traded coffee. Coffee has been our vocation and since day one, we have been working to improve the lives of coffee producers and to advance the coffee industry. So far, It has been a blast and we have met so many great people working in coffee.
In the beginning, we never intended to be in retail but we managed to add four cafes in quaint beach communities in the Florida panhandle. These communities include: Seaside, Rosemary Beach, Miramar Beach and Historic St Andrews, Florida. And recently, we have expanded our wholesale operations from a regional presence to a national level.
In the last 15 years, we have also learned to be a better company. In 2014, we became a Certified B Corporation providing us with a compass to improve on our objectives. And more recently, we worked with takingroot.org to became a carbon responsible company.
Tell us about your collaboration with Kevin Tudball.
We'd been admiring other works by Kevin and knew we wanted to work with him. We first started working with Kevin Tudball to refresh our branding in early 2018. He has an incredible design eye and is very receptive of our company culture and values. Also, we have a common love for coffee and coastal communities. Because of how well he guided us through the rebrand journey, we knew he was the right person to help us take the next steps with updating our coffee packaging.
Why are aesthetics in coffee packaging so important?
In most cases, before a person ever tries your coffee they'll see it in the bag. With coffee it can be challenging to communicate all of the intricacies, form the coffees origin to the quality of the beans to the beliefs of the brand. The packaging is our introduction to these elements. Having a quality design that is friendly, fun, and eye-catching speaks to the uniqueness of each roast. This gives a glimpse of what one might experience when drinking the coffee inside.
Where is the bag manufactured?
Savor Brands manufactures this bag at their factories in China.
For package nerds, what type of package is it?
Quad seal box bottom bag with zip by Savor Brands.
Where is it currently available?
The best place to find this is online at amavida.com and in our retail outlets.
Company: Amavida Coffee
Location: Santa Rosa Beach, Florida
Country: United States
Release Date: September 2019
Designer: Kevin Tudball
Zachary Carlsen is a co-founder and editor at Sprudge Media Network. Read more Zachary Carlsen on Sprudge.
Disclosure: Amavida Coffee is an advertising partner on Sprudge.
The post Coffee Design: Amavida Coffee In Santa Rosa Beach, Florida appeared first on Sprudge.

Source: Coffee News