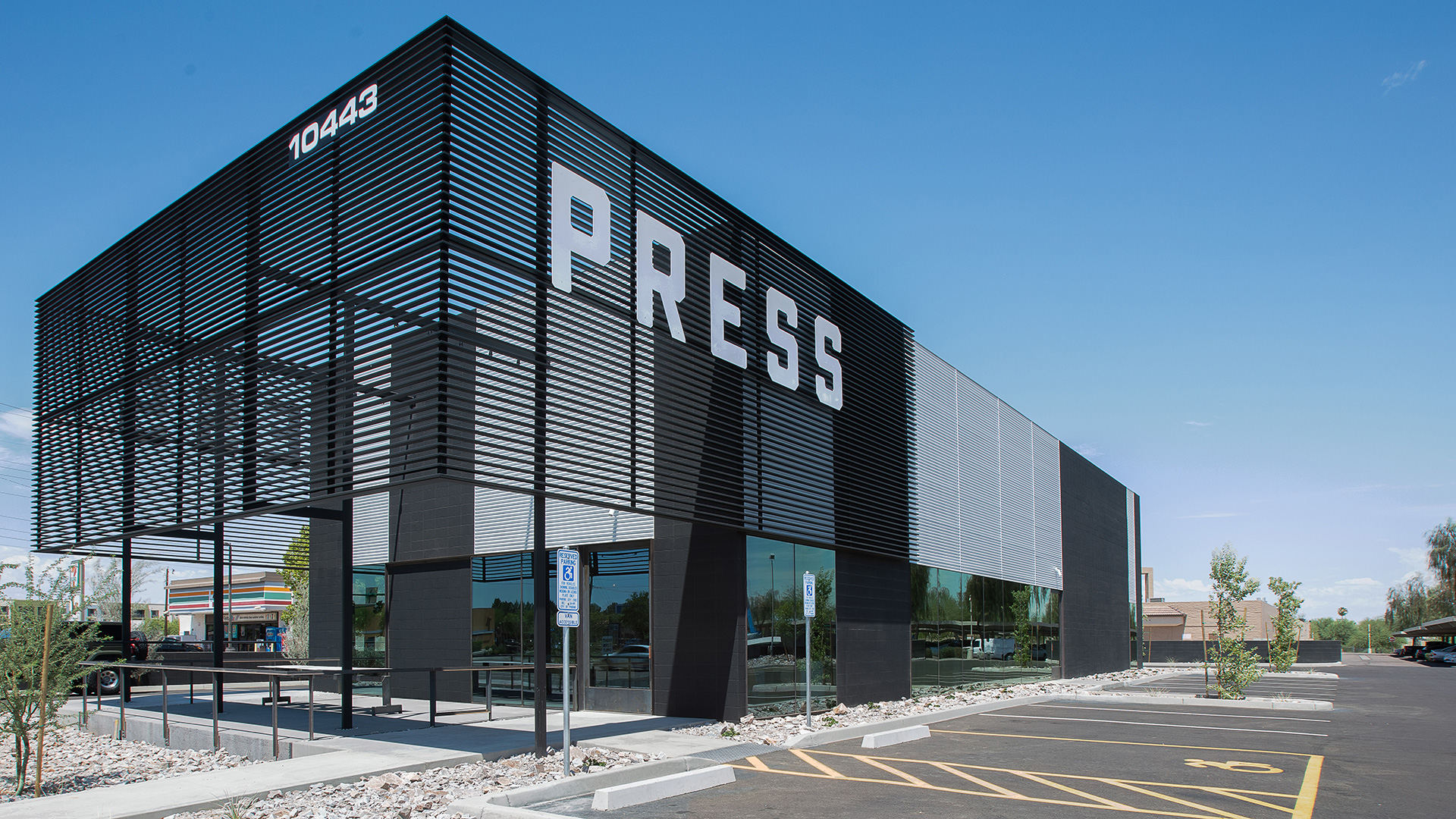 When you think of a roastery, what comes to mind? Is it a nondescript warehouse with little to no signage and a faint roasty smell? Due to some combination of space needs, proprietary secrets, and the unglamorous nature of the function—you try matching a roast curve for eight hours, day in and day out, and tell me how sexy of a job it is—roasting facilities have historically been more low profile affairs than their cafe counterparts.
But recent years have seen an increased demand in transparency across all aspects of the supply chain. Folks want to know not just where the coffee is coming from and how much the farmers are paid for their labor, but how it is getting from its green form to its brown. This interest in roasting is leading many roasting spaces to up their aesthetic qualities; for many, roasting is now front of house.
One of these new breeds of stunning roasting spaces is the aptly named The Roastery by Press Coffee in Phoenix, Arizona. Now over a decade in business, Press is moving into a brand new 5,600-square-foot space that includes a full coffee bar, training center, beer and wine, and a full view of the production operation. Coffee with a side of knowledge, that's what's on the menu at Press Coffee's The Roastery in Phoenix, and we're here for it.
The 2019 Build-Outs of Summer is presented by Pacific Barista Series, notNeutral, KeepCup, and Mill City Roasters.
As told to Sprudge by Adriana Vizcaino.
For those who aren't familiar, will you tell us about your company?
Press has been Arizona's own local coffee roaster since 2008. Quality driven and community focused, Press shares its passion for specialty coffee by providing the highest quality coffee products, service, and knowledge with customers and community. Press Coffee has eight Valley locations in Scottsdale, Tempe, Phoenix, and Chandler. The Roastery is the coffee provider for many Phoenix restaurants and hotels.
Can you tell us a bit about the new space?
We built The Roastery to allow the public to view the coffee roasting process. The building is 5,600 sq ft and includes a full coffee bar, beer and wine, food, and our roasting and production areas. There is a loft that allows people to sit upstairs and view the space from above. Our training center and cupping classes will occupy the space above as well.
What's your approach to coffee?
We strive to deliver a superior product and experience by investing in our employees, facilities, and community. Our knowledgeable and friendly baristas have the common goal of making specialty coffee approachable to the general public.
Any machines, coffees, special equipment lined up?
We have a lineup of three Probat roasters, one P12 and two P25s. A three-group Synesso MVP Hydra, four Malhkönig E65S grinders, Synesso S200, and three Mahlkönig EK43S grinders.
How is your project considering sustainability?
The space uses natural gas and solar panels.
What's your hopeful target opening date/month?
We just opened on July 19th
Are you working with craftspeople, architects, and/or creatives that you'd like to mention?
We worked with The Construction Zone on this project.
Thank you!
Thank you Sprudge!
The Build-Outs Of Summer is an annual series on Sprudge. Live the thrill of the build all summer long in our Build-Outs feature hub.
The post Build-Outs Of Summer: Press Coffee In Phoenix, AZ appeared first on Sprudge.

Source: Coffee News