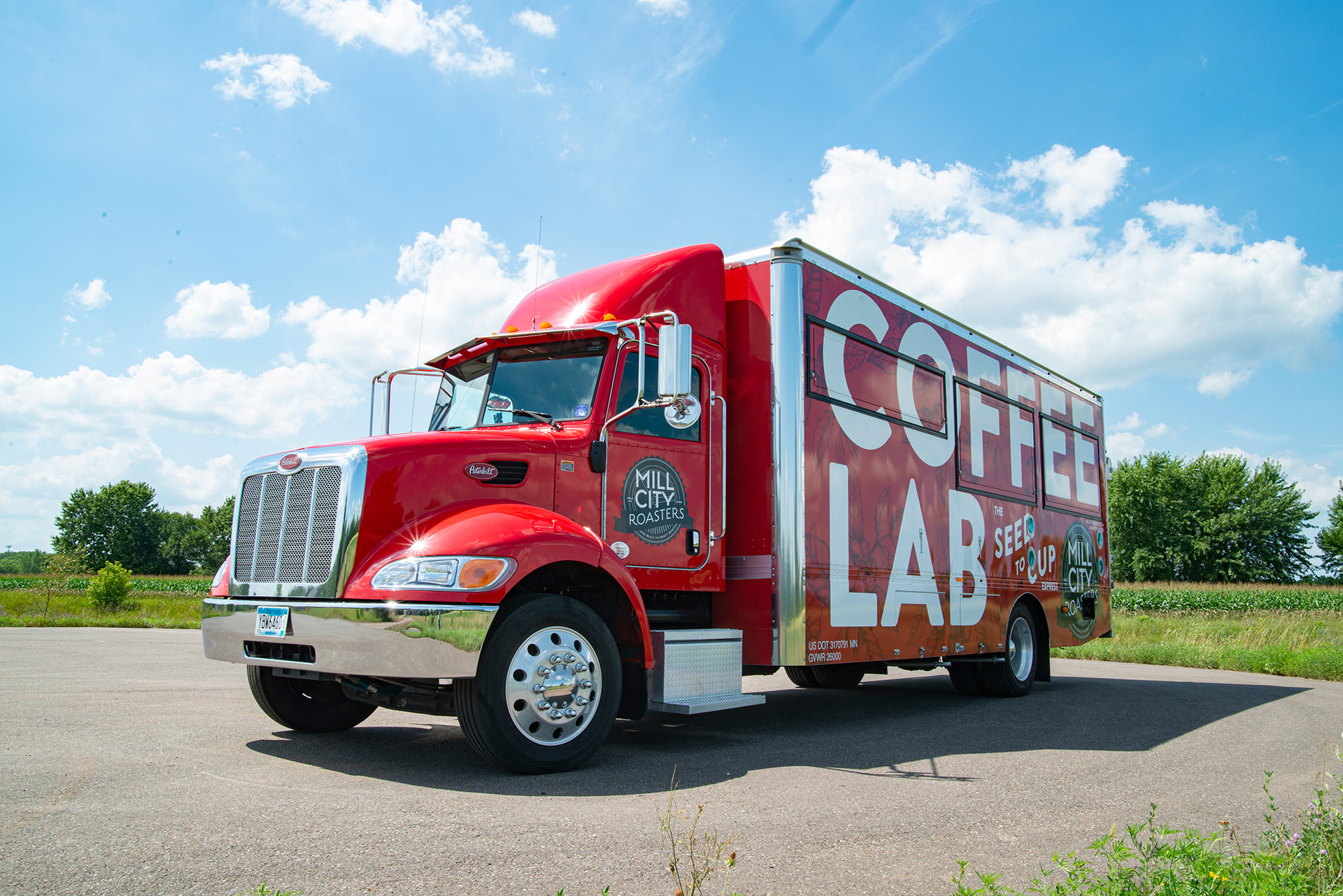 In the past seven years of the Build-Outs of Summer, we've seen projects big and small. We've witnessed massive roasting facilities all the way down to mobile coffee trucks. But never—and I mean NEVER—have we seen both in the same build. Until today, that is, thanks to Mill City Roaster's mobile roasting lab.
Lovingly referred to as the Big Red Roast Rig (for obvious reasons), the 40-foot Peterbuilt box truck is equipped with two 500g sample roasters, two three-kilogram roasters, and a full coffee bar. It's essentially a training lab on wheels, allowing Mill City to take the show on the road and connect with clients in ways that wouldn't be possible otherwise. The Big Red Roast Rig has already made stops in Kansas City for the 2019 US Coffee Championships—where it was utilized for the Roasters Championship—in Georgia for the Coffee Roasters Guild Retreat, and in Los Angeles for LA Coffee Fest. Where will they be next? Wherever there's open road takes them. For a full list of their next adventures, check out the Big Red Roast Rig page. Don't you just love the feel of wind in your roaster's airflow system?
The 2019 Build-Outs of Summer is presented by Pacific Barista Series, notNeutral, KeepCup, and Mill City Roasters.
As told to Sprudge by Angie Davis.
For those who aren't familiar, will you tell us about your company?
At our core, we're simply specialty coffee roasters who also make roasters. We're passionate about coffee quality and we've optimized our machines for specialty roasting from the perspective of people who've actually stood next to a production roaster trying to get better coffee eight hours a day, five days a week.
Can you tell us a bit about the new space?
We'd had the idea to create a seed-to-cup mobile coffee lab last Summer. The monthly classes at our campus in Minneapolis had become really popular but there was still a barrier to entry for people from further away that either couldn't afford travel or couldn't leave their businesses for a few days to attend. Mobilizing coffee education would allow us not only connect with those people but to also to promote specialty coffee to the public in a more immediate, hands-on way.
The idea really started to take shape when the 2019 US Coffee Championships were being planned. For a few years now, Mill City Roasters had been the official roaster of the US Coffee Championships and when the finals were schedule for Kansas City in the Spring of 2019, the venue chosen did not have the ability to host the roasting competition indoors. Instead of roasting in a tent, we shared our mobile coffee lab idea and suggested it could be developed to host those competitors. We purchased a 40-foot Peterbuilt box truck that just happened to have a cab in Mill City red and got to work.
Much of what we were trying to do functionally had already been done in food trucks so we wanted to borrow some of that capability but we didn't want it to look like a food truck. We wanted the space to feel more like a warm workshop than a commercial kitchen. The truck had wood floors that we patched and refinished. We lined the walls with maple veneer plywood with a clear matte finish. We designed custom metal cabinetry that incorporated residential scale details and finished them in matte black. We used butcher block counters at all the stations and incorporated soft task lighting at each work surface.
But the windows are really the most important part of the interior. We wanted every work surface to have enough natural light that interior lighting was not required but the windows play a larger role in framing (literally) our experience with this project both from inside and outside. The windows give viewers outside the ability to be voyeurs to what can sometimes be very focused and intense tasks. From inside, the windows reinforce this idea of mobility, travel, adventure, and capability. You could be hitting first crack or pulling a shot and you look outside and see the Grand Canyon. It reinforces our original goal—spread the love of specialty coffee everywhere.
The graphics on the exterior were the last step and the goal was to turn the truck into a moving billboard to announce what was happening inside. It's been effective. We've had people follow the truck for miles to our destination just to say hello and check us out. At every pitstop, people ask about our our travels. Every opportunity we get to connect with people about coffee and roasting is welcome.
What's your approach to coffee?
The growth in commercial coffee is cup quality forged at the intersection of machinery, people, and ideas. We see coffee quality as a tool to differentiate local businesses and help them grow. Our educational philosophy is uniquely commercially focused on the "brand building" side of greens selection, roasting, and extraction. At the end of the day, we're trying to help businesses make choices that maximize their freedom of choice.
Any machines, coffees, special equipment lined up?
Beyond our two Mill City Roasters 500 gram Sample Roasters and two three-kilogram gas coffee roasters, we needed additional equipment and supplies to make it a true seed-to-cup experience. We wanted to choose those companies and brands that shared our values within the specialty coffee industry. We chose to work with La Marzocco and Wilbur Curtis as two highly respected equipment suppliers. Both of those companies have a wide range of solid equipment and we were able to find pieces that worked perfectly in our layout. We're using two La Marzocco Linea Minis, two Mazzer Mini Electronic A Grinders, two Wilber Curtis D500GT Brewers with airpots, and a Mazzer ZM Grinder. We're also highlighting four greens this year from our greens sponsor, Cafe Imports, with whom we continue to have a close relationship not only on the truck but back home in Minneapolis.
How is your project considering sustainability?
Every student we can reach on the road eliminates their potential travel either by road or by airplane to receive that education. Our truck is outfitted with a zero emissions system and the truck recharges its high capacity battery systems, which power our coffee equipments and lights as it rolls down the road. Beyond sustainability, we are also donating 100% of class fees collected during our August trips to charities working at our southern border.
What's your hopeful target opening date/month?
We are on the road as we type! Currently in route to LA for Coffee Fest after just having spent last weekend at Coffee Roasters Guild in Georgia. So far this year, we've taken the truck to Kansas City to host the roasting competition of the US Coffee Championships and in early Summer we completed a five city tour through Indianapolis, Knoxville, Nashville, St. Louis, DesMoines.
Are you working with craftspeople, architects, and/or creatives that you'd like to mention?
The truck layout, finishes and graphics were designed by our Creative Director, Angie Davis. Her background is in architecture and product design and Mill City customers will recognize her name as she's very involved with helping them understand their own space planning and systems requirements. Our owner, Steve Green designed the fuel system, generators, and high capacity battery systems that provide power for the roasters, coffee equipment, lights, and air conditioning. The entire Mill City team played a part in getting us road ready so it's rewarding for all of us to see so many people enjoying this project.
We'd also like to recognize our 2019 Road Sponsor, Pacific Foods whose generous support makes much of our travel possible. Pacific Foods continues to be an incredible supporter of the specialty coffee industry and we're grateful for their support alongside our other sponsors and collaborators.
Thank you!
Thank you! We'll see you out there!
The Build-Outs Of Summer is an annual series on Sprudge. Live the thrill of the build all summer long in our Build-Outs feature hub.
The post Build-Outs Of Summer: Mill City Roasters In Minneapolis, MN appeared first on Sprudge.

Source: Coffee News