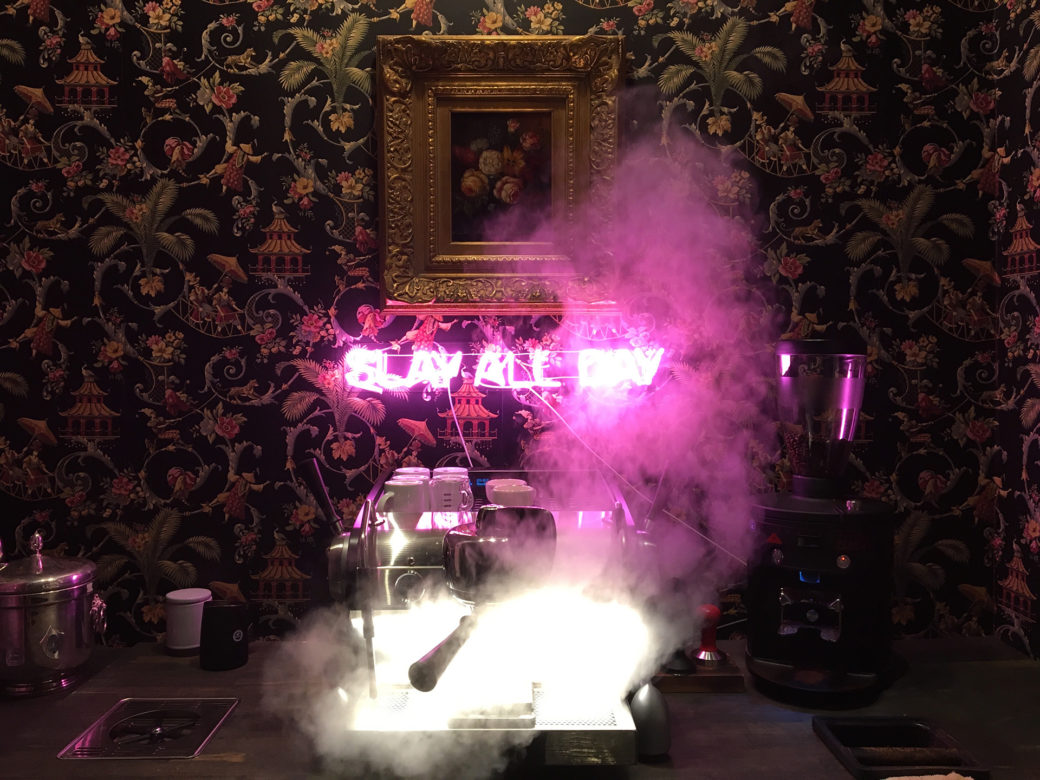 On a misty Saturday morning, you walk up to a rowhouse in Philly's sleepy residential neighborhood of Fairmount. The buzzers are labeled with scraps of paper, the handwritten names of tenants. You buzz the first floor. The label is printed in thick, purple script: Boku.
Boku has been many things: a culinary experiment, a platform for local line cooks, and an intimate supper club serving never-repeated, reservation-only meals. Most recently though, Boku took on an ABC concept: "Art, Breakfast, Coffee." Guests admire a gallery of work by local artists, then enjoy a simple, perfected breakfast sandwich and unique coffee service.
Ryan Fitzgerald, owner and founder, may be the only consistent piece of the ever-evolving business. Fitzgerald—who doesn't have any formal kitchen training—started it as a way to explore the culinary arts. "I was making all this food and didn't really have anybody to eat it, so I threw these dinner parties for my friends."
Cooking for friends slowly became cooking for strangers. Then Fitzgerald began to host guest chefs, using his vacation days to hold the supper club in his apartment. When he ran out of vacation days in 2016, he quit his day job to run Boku full-time.
Fitzgerald jokes about the decision to turn Boku into an art gallery. "In the beginning, I was selling food out of an apartment and charging people for it. That's illegal." Now, visitors pay for admission to the gallery and food is complimentary.
This kind of agile maneuvering explains why Boku's original logo was an octopus. "Octopi can get in and out of anything. They can adapt themselves to any situation."
Fabrizio Verga of Yours Truly Coffee in NYC first introduced Fitzgerald to the wider world of coffee. "He's like a brother to me and 100% responsible for my interest in coffee." Fitzgerald started out with a hacked Gaggia from the 80s, replumbing the water tank himself and hooking the machine to a PID (proportional-integral-derivative) controller to get consistent water temperatures. This kind of mad scientist behavior isn't new for him. "I wish my parents were here to talk about it. I destroyed a lot of electronics."
When he started to get more serious about the coffee component of Boku, he turned a coat closet into a (home) coffee bar to inspire jealousy. Floral wallpaper and a pink neon sign that reads "SLAY ALL DAY" are the backdrop to the crown jewels: a single-group Slayer and a Mahlkönig EK43.
He also brought on local barista Frank Monzo, who loves the setup. "It's a playground."
The equipment is key to their precise, unique coffee service. "[The Slayer] allows me to make what I'm serving more expressive," says Monzo. "It allows me to tailor the machine to the coffee as opposed to vice versa." Likewise, they use Mahlkönig's EK instead of the PEAK because they're tailoring every shot, every cup of coffee, rather than trying to perform at volume. They've chosen to carry Onyx Coffee Lab for their service.
And perhaps more importantly, it's a very intimate service. "First and foremost, it's my apartment," says Fitzgerald. Three-quarters of people don't know that, but when they get here I tell them, and that's very disarming."
They don't have to worry about being crowd-pleasers, and their guests are much more willing to go along with their experiments than they might be in their usual coffee shop. "My favorite part of it is how different it is from working in a cafe setting," says Monzo. Eating breakfast this close to their barista seems to break down some of the scripts they have about caffeine acquisition.
"There's been so much more engagement in this setting about specialty from people who aren't specialty-aligned," says Monzo. "Every week we have a person say, 'I didn't know coffee could taste this way.'"
The format gives them the space to be patient and welcoming, and this allows them to provide a high-level coffee service while avoiding making people feel overwhelmed or unwelcome.
A few months ago, Fitzgerald started experimenting with wildly eclectic ice cream for his dinner service, including "God Mode" pints inspired by a locally-roasted coffee. Fitzgerald cold steeps whole coffee beans in the ice cream base, then adds ingredients to recreate the individual coffee's flavor notes.  "Let the Q graders go wild. They want to call it mid-season Meyer lemon? Let me go find some mid-season Meyer lemons."
Now Boku is evolving once again. The ice cream was such a success that Fitzgerald has spun it into its own business: 1-900-ICE-CREAM. With orders selling out as fast as he can make them, he has stopped dinner and breakfast service. It's the end of one chapter of Fitzgerald's culinary journey and the beginning of a new one.
Derek Beyer is a freelance journalist based in Philadelphia. This is Derek Beyer's first feature for Sprudge.
Photos courtesy of Ryan Fitzgerald.
The post Inside Boku, Philadelphia's Art Gallery & Coffee Bar Inside An Apartment appeared first on Sprudge.

Source: Coffee News