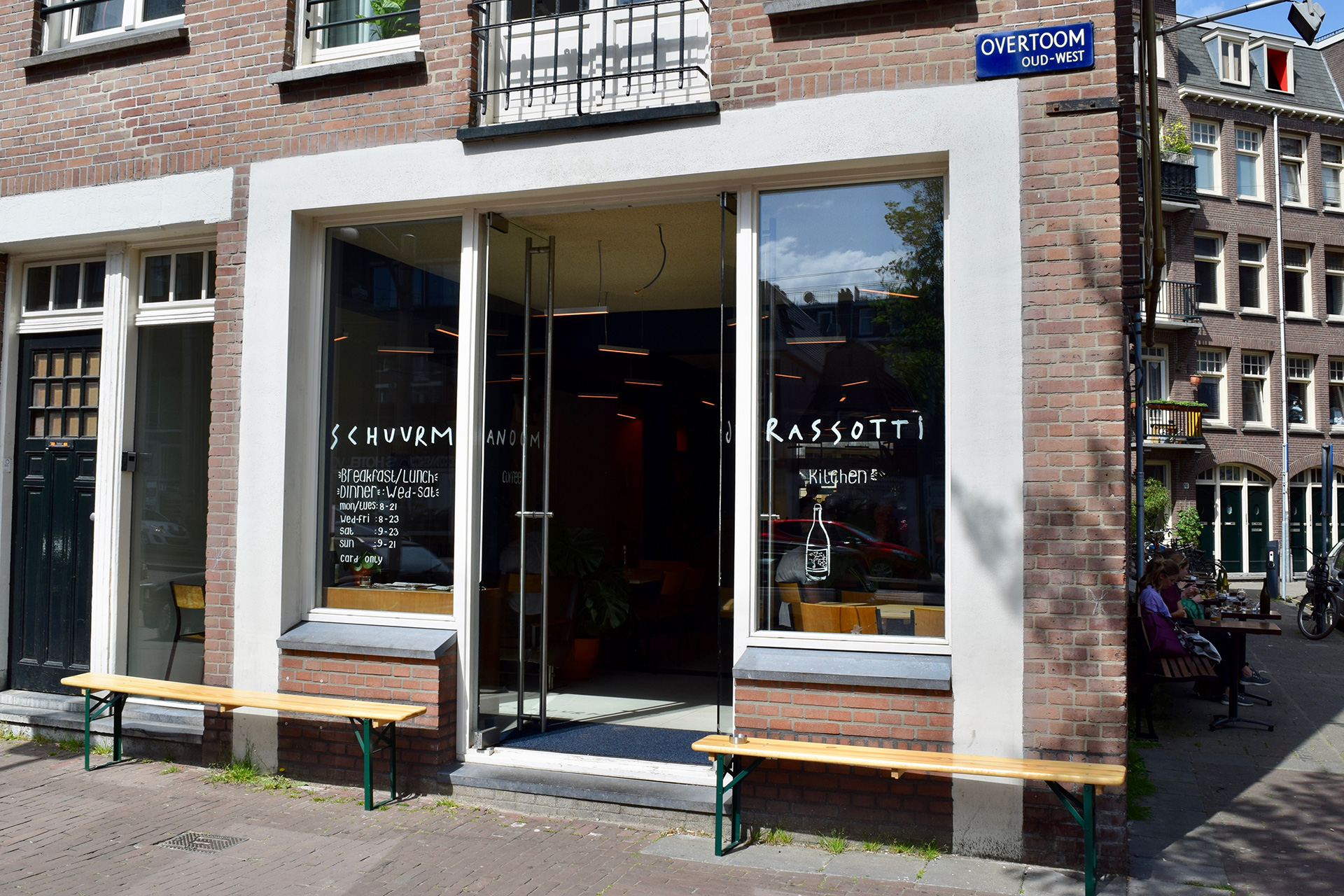 If Schuurmanoomkensgrassotti is too much of a mouthful, consider calling this new Amsterdam venue what the three owners sometimes do: De Schuur. That's shorthand for Schuurman, which is one of the founders' surnames—though it also means "the shed" in Dutch. Its usage is telling—natives of the Netherlands tend to err on the side of humble.
Located on a bright corner in the neighborhood of Oud-West, Schuurmanoomkensgrassotti serves coffee, wine, and, as its website summarizes, "creative plates to share." It is hardly a shed. Standards-wise and aspirations-wise, it is more like a cathedral. Not that the buttresses fly, not that the glass is stained, but the values are lofty, the service is elevated, and the flavors are sublime. If the coffee—all of which comes from specialty roaster and brother business White Label Coffee—is the altar around which the enterprise was built, then the wines, all-natural, are its flickering votive candles. In this case, patrons sip their succor.
As to how Schuurmanoomkensgrassotti emerged, it was, to paraphrase the Bible and Bob Marley, a stone that Barry Schuurman rejected that became the cornerstone. Schuurman had worked at White Label for over three years, handling cafe operations, wholesale deliveries, and training. He was the first full-time employee and proved so endearing to his bosses, Elmer Oomkens and Francesco Grassotti, that when they considered expanding, they offered him a raise or a stake in the company.
Meanwhile, it had always been "a bit of a dream to have my own place," Schuurman says. "But at White Label, the job was just amazing—it was really nice, always—so the dream kind of went, let's just say, on a little back road again." Yet when "we kinda just started talking about how things were going really well and we just wanted to do a bit more," he explains, it was time to take what "seemed the most logical step."
Schuurmanoomkensgrassotti opened in January. In this venture, the three partners are equal. Schuurman plays down his position in their co-authored byline, but the ordering "was quite natural," says Oomkens, adding: "Barry is like the main man here." Schuurman, who left White Label altogether, works six days a week at Schuurmanoomkensgrassotti, managing daily operations and, like Oomkens and Grassotti, taking shifts behind the bar.
White Label is to Dutch specialty coffee what Nirvana is to early 90s Seattle rock: not necessarily the scene's pioneers, but the group with the most impact, quickly winning over purists and piggybackers alike. When Sprudge interviewed Oomkens and Grassotti in 2015, their Amsterdam micro-roastery was a bit over a year old though very much in bloom. Both were relatively new to specialty coffee, and branding themselves as brandless—a white label—was part memo, part mantra to maintain "a clean, open-minded state," Grassotti had said. Oomkens chimed in, elaborating: "Francesco came up with that. It's just the unwritten-piece-of-paper idea, something that's open, not bothered with prejudgments."
A half-decade later, White Label's wholesale, nationwide and international, is a big enough undertaking to have spilled out of the back of their cafe and into a rented ex-classroom at Amsterdam's nightclub-cum-cultural complex De School. In March, White Label participated in the first-ever Roast Masters; even though Oomkens and Grassotti "don't really believe in the competition," as the former says, and disapprove of its requisite espresso blending, they did not hold back their three eager staff roasters from competing—and they won.
Despite or perhaps because of all the successes so far, setting up a shop this time around, with Schuurman, they had a clear vision. "It was obvious that we just [didn't] want another coffee place," states Oomkens. They definitely wanted natural wines and warmed to the incorporation of a kitchen.
This past spring, the wine list at Schuurmanoomkensgrassotti had no fewer than a couple dozen entries. Categorized as sparkling, white, orange, and red wines, along with a few under beer and cider, all are sold by the bottle and half come by the glass as well. Oomkens credits Figo van Onno, owner and sommelier of Amsterdam restaurant Choux for originally turning him and his colleagues onto natural wines. Nowadays Van Onno, under the name Zuiver Wijnen, is one of three importers that Schuurmanoomkensgrassotti's own in-house wine coordinator, Eefje Slabbekoorn, relies on; Clavelin and Winestories are the others.
For drinkers seeking more lift than lull, however, there's no shortage of coffee. Espresso shots are pulled on a three-group La Marzocco Linea PB. All the filter coffee—of which there is an extensive menu, columnized as "nutty and chocolaty" or "bright and fruity"—is prepared with a Moccamaster. The classic Dutch brewer's Jubileum '68 models complement the surroundings' light-touch mid-century modern design, but Oomkens notes that the choice to use the machines there and at White Label was foremost flavor-driven.
Breakfast, bar snacks, and lunch are available daily; dinner is currently served all nights but Monday. The menu changes according to seasonal availability.
"We're trying to approach it the same way we approach the wines and the coffee," says Schuurman. "Being food, the ability or the chances to source it locally are a lot bigger than with coffee."
Meats come from De Marsen, a nature reserve north of Amsterdam, and fish from the Goede Vissers stall at the city's Saturday Noordermarkt. French chef Pauline Jacob currently leads the kitchen with precision and panache. On a recent visit, her team demonstrated how alluring and affordable vegetarian meals can be. Just 25.50 Euros covered three delicious dishes: a medley of mushrooms and potatoes garnished with seaweed and wild garlic butter; a warm bean salad with radishes and vermouth-vinaigretted baby gem lettuce; and for dessert, a buckwheat pudding in a lemon-verbena syrup, all topped with a dollop of dill hangop, candied buckwheat, and rhubarb.
It should be noted that Schuurmanoomkensgrassotti is not the only good food and wine spot to have arisen from or in adjacency to specialty coffee. Scandinavian Embassy was an early host of coffee dinner parties, and spawned cafe/wine bar/restaurant 4850. Fellow Amsterdam micro-roasters Friedhats' new flagship, FUKU, is among several specialty cafes licensed to sell alcohol and choosing to go au naturel. The Dutch capital is waking up to natural wine.
Still, an attribute that sets Schuurmanoomkensgrassotti apart is its accessibility. The staff has a uniquely personable mix of humility and knowledge-sharing generosity. This trait was also observable by Schuurman on first making acquaintance with his employers, back when he was a customer hanging out after work and on weekends at his local coffee bar, White Label.
"That's what always appealed to me so much about White Label, that it's not snobby. A lot of times in specialty coffee now as well for me, it tends to become really snobby, like you have to be someone to be able to enjoy this," he says.
Schuurman maintains the same outlook today, from the other side of the counter.
"What really drives me is the service towards people," he emphasizes. "No matter what background you have, no matter how much you know about coffee or how little you know about coffee—the same goes for wine—in my eyes, everyone should be able to come here and enjoy it and get something that they like."

Call it Schuurmanoomkensgrassotti, call it De Schuur (there is, in fact, a small wooden shed in the backyard used for storage). Whatever you call it, know that coffee, wine, and food are united here in a way that is bold and surprising yet totally welcoming. For Amsterdam, this is a holy revelation in the coffee-wine-food revolution.
Karina Hof is a Sprudge staff writer based in Amsterdam. Read more Karina Hof on Sprudge. 
The post Schuurmanoomkensgrassotti! appeared first on Sprudge.

Source: Coffee News