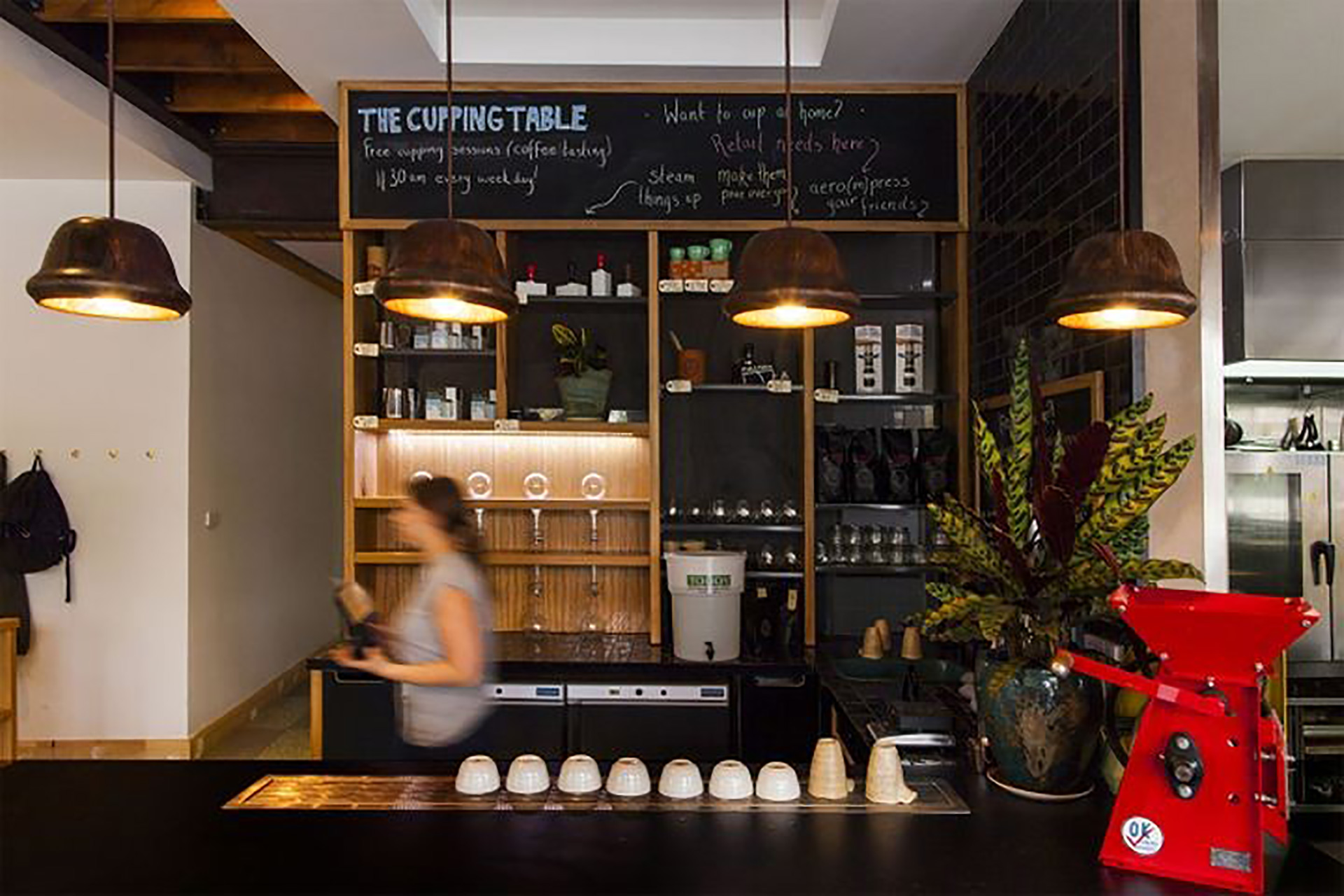 It's easy to arrive in Canberra, the capital city of Australia, and get caught up admiring all of the grand government buildings that neatly line the streets of the well-planned city—from Parliament House on top of the hill, to the Australian War Memorial and the National Gallery of Australia. The city is also home to about 80 embassies and high commissions.
Nicknamed the bush capital, Canberra is home to a population of about 390,000 people and is also well-known for having lots of roundabouts (at last count it was about 406). For a long time it was never really considered a destination—mainly because there wasn't much going on. The only time people visited was during school excursions or when visitors were in town, but even then that was a drag.
However this has all changed and frankly, part of that shift in attitude towards the city can be attributed to the local coffee scene. It all started when one of the city's very own baristas, Sasa Sestic, was crowned the winner of the World Barista Championship title in Seattle back in 2015. Since then, he's been training other baristas in the city, many of who have followed in his footsteps and have entered and won similar competitions like the master barista himself.
The burgeoning coffee scene has partially helped put Canberra on the map as a cool place to visit. These cafes have themselves become travel destinations for visitors in search of quality caffeine or a place to take refuge after all that exploring (or going through roundabouts).
The Cupping Room
If you had to pick and choose a handful of cafes that were responsible for starting the coffee trend in Canberra then there's no denying that The Cupping Room is one of them.
The Cupping Room is owned by Canberra's largest speciality coffee roaster, ONA Coffee, the company that was founded by award-winning Sasa Sestic and is also home to other champion baristas including Matthew Lewin, 2019 Barista Champion of Australia. Given how many awards ONA Coffee has, no matter the barista you're almost guaranteed a good brew.
Part cafe and part educational hub, The Cupping Room is the go-to to learn a thing or two about coffee, beans, taste, and flavor with their education cupping sessions. Their seasonal menu features all-day breakfast—it could be a bacon and egg roll or something heartier like fritters or beetroot cured salmon with herbs and greens such as pickled fennel, asparagus, and cucumber.
Barrio Collective Coffee Bar
Opened in 2015, Barrio Collective Coffee Bar may be tiny in size but it packs a punch in the local coffee scene. Located in the hip neighborhood of Braddon, the coffee menu has been tailored to reflect the cafe's traditional and contemporary brew methods. Their motto is to keep things simple and everything from their decor to menu delivers on that.
The community-like vibe of the space is best enjoyed with their range of small-batch-roasted coffees. In addition to nut milks, milk suppliers have been thoughtfully sourced from nearby regions: Tilba Dairy, Bodalla Dairy, and The Pines Dairy in Kiama.
The food at Barrio ranges from tasty coffee-pairables such as stroopwafels to hearty and warm grilled cheese sandwiches.
Greenhouse Coffee and Food Co.
Who knew you could find good coffee in a mall? In Canberra you can. On the top level of Canberra Centre is Greenhouse Coffee and Food Co. This gem is a welcome reprieve for anyone looking for more than just any average food court offering.
The venture was started by two of Canberra's coffee veterans, Sasa Sestic from ONA Coffee and Michael Rose from Espresso Room, before it was recently sold to new owners.
Coffee is all locally sourced from ONA. With multiple blends available, drinks include filter coffees, single origins, and cold brews. Just as much as the coffee variety changes, the food menu also rotates each season. Dishes in the past have included pork benedict with braised pork hock, Béarnaise sauce, and pickled beetroot, and banana fritters with cardamom anglaise, vanilla malt crumble, and pineapple sorbet.
The space, as the name suggests, has been designed to replicate a greenhouse with a mix of Hampton styling. Arched French windows overlook the city and greenery hangs from the ceiling, making it an ideal refuge if you're seeking to escape the craziness of the shopping mall. There's also a balcony that's suitable for the warmer months.
Coffee Lab
As the name hints, Coffee Lab is part coffee roaster and part science lab. There's no better way to understand the coffee-making process and the science that goes behind it by watching the baristas, who pride themselves on experimental brews, trial, and test all the different coffee beans at the concrete bar. They're happy to talk you through the process too—just ask.
Their experiments always produce a rotation of at least two milk-based blends, a single-origin espresso, and filter options, often poured with a bit of theatre.
Just like the coffee, the food served at Coffee Lab is ever-changing. Depending on the season it can vary from tiramisu pancakes to smashed eggs with chorizo to red velvet pancakes to shrimp patty burger.
It's corner location decked out with hanging greenery suspended from wooden crates and a wall of coffee bags make it a popular go-to spot for public servants, who are often lining up out the door for their morning caffeine hit. To avoid the lengthy lines there are plenty of cosy spots to choose from. The best seats in the house are either on the banquette or by the large front windows where it's a chance to watch passers-by.
Harvest
When your coffee options include pour-over, syphon, cold drip, or AeroPress, you know you're at a spot where coffee is taken seriously. Harvest is all about serving a cup—or three—of some of the city's best coffee from its wooden bar where all the dedicated work of testing new brewing methods happens. The moody venue uses a blend of beans from countries including Brazil, Colombia, Guatemala, Sumatra, and Honduras, sourcing it from other Australian roasters including Melbourne-based Industry Beans and fellow Canberreans, Barrio Collective.
While there, it's hard to resist the sweet offerings that are always on display at the counter. It varies from muffins to banana bread, in-house baked chocolate chip cookies, and Portuguese tarts—all of which are ideal accompaniments to a fresh brew.
The ample low-stool seating and vibrant service that's offered at Harvest has made it a favorable hangout for crowds to sip away over a few cups in the corner.
Aimee Chanthadavong is a freelance journalist based in Sydney. Read more Aimee Chanthadavong for Sprudge.
The post A Coffee Drinker's Guide To Canberra, Australia appeared first on Sprudge.

Source: Coffee News