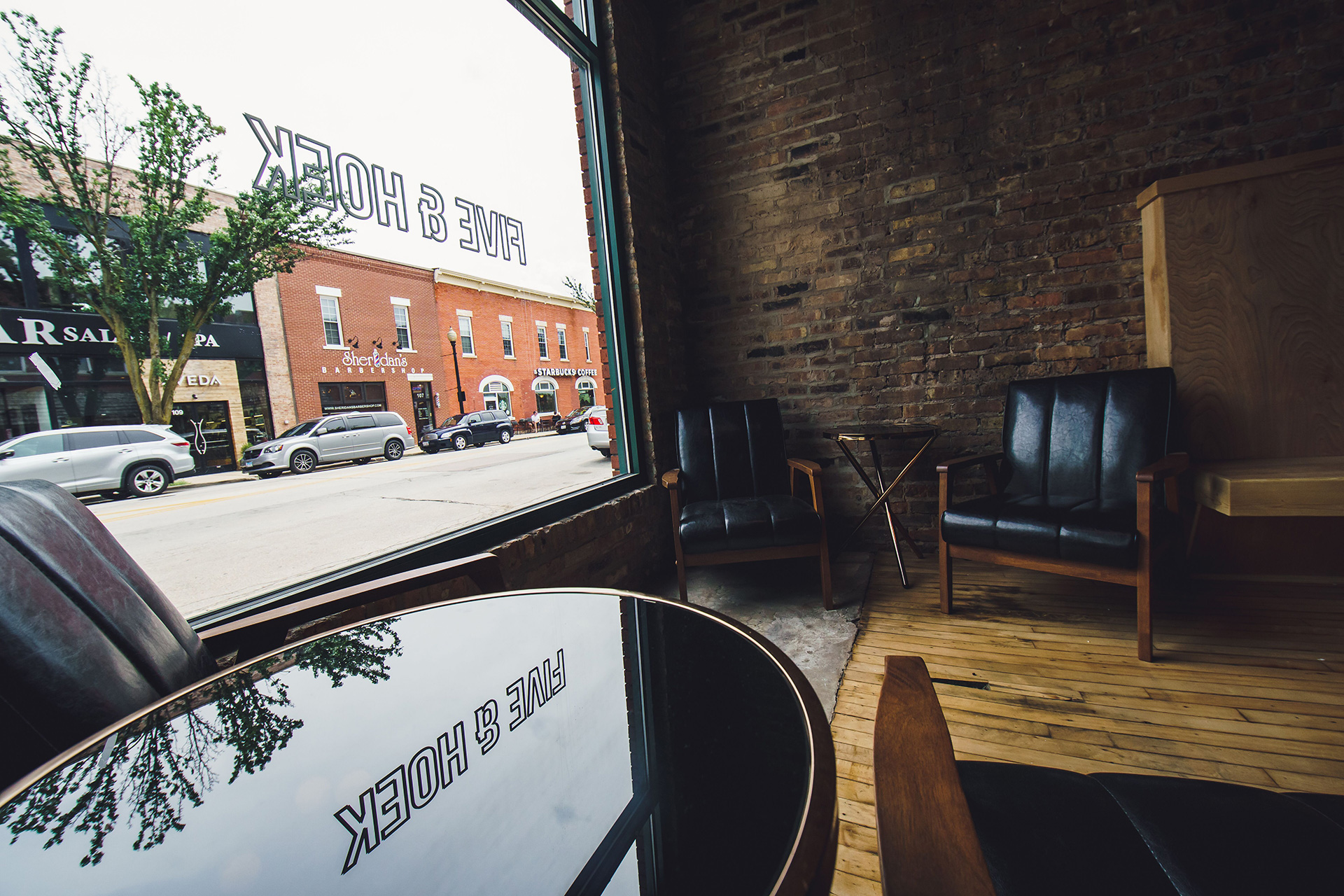 Sometimes a build-out isn't about creating something new, but giving a new look to something already in place. And that goes doubly true for today's entry, Five & Hoek Coffee in Wheaton, Illinois. After starting in 2013 under the moniker River City Roasters, Five & Hoek had to reinvent themselves due to some legal issues with the previous name. Now six years later, the cafe and roastery is revamping their space with a brand new expansion.
With more room to spread, Five & Hoek will be adding a brunch menu into the mix as well as giving the old space an update with some comfy leather chairs to match its newer sibling. More space, comfy chairs, and brunch? Sign me up for a few hours please at the all-new but not entirely new Five & Hoek Coffee in Wheaton, Illinois.
The 2019 Build-Outs of Summer is presented by Pacific Barista Series, notNeutral, KeepCup, and Mill City Roasters.
As told to Sprudge by Tyler Fivecoat.
For those who aren't familiar, will you tell us about your company?
We're Five & Hoek. Most locals know us by our old name, River City Roasters. We had to make a name change for legal reasons and after a few months of not agreeing on a name, one of our owners, Erich, thought let's name it after the other two owners? Tyler Fivecoat (that's me) and Aaron Hoekstra which led us to "Five & Hoek." We have been in Wheaton since 2013 and we are led daily by Beth Fivecoat who manages our staff and runs the cafe. Tyler handles the QC and roasting side of the business. Our company believes in building a brand that is focused on community starting with the farmer and ending with our cafe guests. This inspiration came from a trip to Assam, India where we wanted to bring their laid back village lifestyle of conversation over tea and biscuits to the states.
Can you tell us a bit about the new space?
Our new space is an expansion of our current cafe in Wheaton, IL. We are doing this to offer our patrons additional seating including a custom built in birch wood bench with a gorgeous backdrop brick wall original to the building built in 1908, and to introduce a new brunch menu to compliment our coffee program. We are updating our current cafe by redoing the old grimy industrial floors in October exactly how we sanded and refinished the expansion floor. We have replaced all of our metal chairs with new wood and leather chairs, replaced all of our table tops, and gave our current cafe some fresh paint and new countertops. Our space is meant to be a safe place to build community, so our focus in our design and decor is to make it as comfortable as possible to our guests.
What's your approach to coffee?
Our approach to coffee is to handle it with care the best we possibly can. We do this by having great relationships with the importers we work with, as well as carrying coffee year after year from the same producers. Our approach is to tell a story with our coffee by sharing the stories of the farmers we work with to our community and to carefully roast it in a way that reflects terroir and origin characteristics we've come to know and love. We have worked with a farm in Cundinamarca, Colombia directly for two years and have worked with Catracha Coffee in Honduras for four years and Long Miles Coffee Project in Burundi for four years. Our newest relationship coffee is with an amazing project in Costa Rica called Farmers Project through Marianella Baez Jost.
Any machines, coffees, special equipment lined up?
We have a La Marzocco Linea Classic, a Mahlkönig EK43 for drip and single origin espresso, FETCO CBS 2142XTS for our drip offerings. In the roaster we have a Diedrich IR12 and utilize a La Marzocco GS3 for pop-ups, caterings, and testing new coffees.
How is your project considering sustainability?
We approach sustainability mostly by not overcommitting ourselves. Right now we commit to the relationships we have so that we can pay at least 45% above Fair Trade minimum, which allows us to commit year after year to amazing coffee and encourages the farmers to grow incredibly tasting coffee. Our Honduras coffees from Catracha are grown using organic fertilizer that the farmers make themselves, and in Burundi Long Miles has a group called Coffee Scouts, which are primarily students just out of high school to have a job opportunity right away, that fight against the Potato defect. In the cafe we recycle as well as compost, save grain pro bags to share with Catracha, and give away our burlap for those seeking it in our community.
What's your hopeful target opening date/month?
Late September 2019
Are you working with craftspeople, architects, and/or creatives that you'd like to mention?
Our friend Dave Kral did all of our construction, Tyler handled all the interior design, and we worked with a few amazingly talented artists: Amy Tromp, Robb Davidison, Hayley Movius, and Jeffrey Swider-Peltz.
Thank you!
Oh no, thank you Sprudge 🙂
The Build-Outs Of Summer is an annual series on Sprudge. Live the thrill of the build all summer long in our Build-Outs feature hub.
The post Build-Outs Of Summer: Five & Hoek Coffee In Wheaton, IL appeared first on Sprudge.

Source: Coffee News