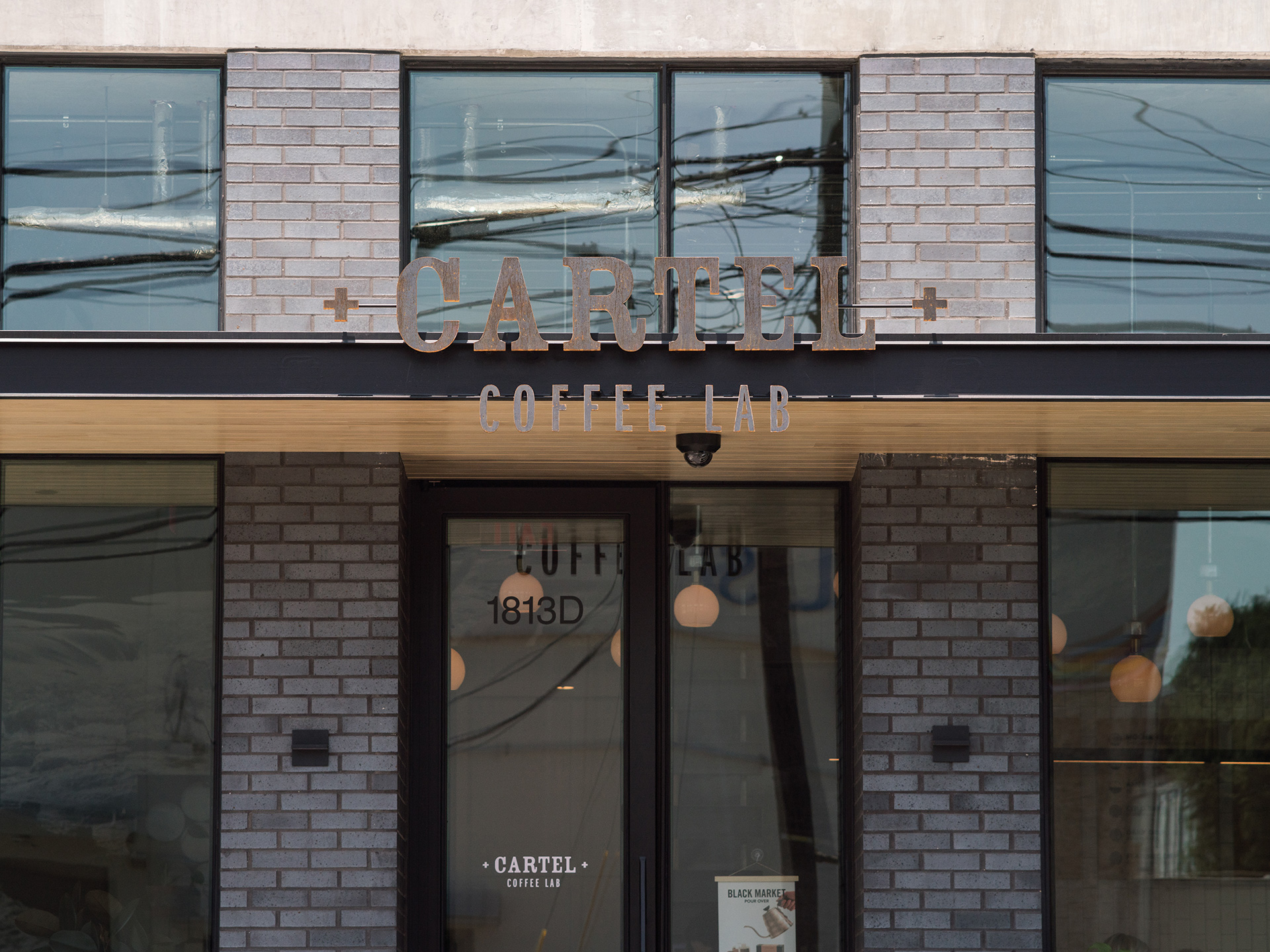 Tempe, Arizona's Cartel Coffee Lab have been spreading their wings as of late. Owner to multiple cafes statewide—including the very essential cafe in Terminal 4 of the Phoenix Sky Harbor International Airport—thanks to a partnership with Arrive Hotels, Cartel has expanded beyond their Arizona confines and moved into Palm Springs, California and now, Austin, Texas.
Their newest location, on 6th Street in East Austin, is adding to one of the city's coffee hotbeds; Cartel is a literal stone's throw away from Cuvee's coffee bar (or at least I could throw a stone that far, YMMV), amongst many other, less-projectile distanced cafes. But even being 1,000 miles from home, Cartel still has the same feel of their Arizona cafes, thanks in no small part to in-house design and fabrication. Cartel's Austin location is open now, so let's pop in for a visit, shall we?
The 2019 Build-Outs of Summer is presented by Pacific Barista Series, notNeutral, KeepCup, and Mill City Roasters.
As told to Sprudge by Paul Haworth.
For those who aren't familiar, will you tell us about your company?
We have been sourcing, roasting, and brewing the most exciting coffees we can find since 2008. We are primarily a retailer as opposed to a wholesaler and we have eight locations. Our home base is Tempe, Arizona, where we still roast everything on a 25-pound San Franciscan at the original location.
Can you tell us a bit about the new space?
We landed a great partnership with Arrive Hotels, which has gotten us out of being exclusive to Arizona. First, we opened a location in Palm Springs, CA and now we have this new space in Austin. We will also be opening a third space with them in Phoenix by the end of 2019. All are street facing, independent shops that happen to be sharing walls with the hotels. The feel is urban with lots of steel and neutral colors.
What's your approach to coffee?
We work almost exclusively with an importer called Mercanta. We travel with them to source directly and love that they have a North American team of only three people. No secrets, just people finding amazing coffees and making sure producers get well above the cost of production for everything. Rotating single farm offerings are our specialty but we did also just launch our very first blend. We are a light roaster. Even our blend is a light roast. It's how the most interesting coffees with the least defects taste the best, in our opinion.
Any machines, coffees, special equipment lined up?
We love our La Marzocco Linea PBs and doserless Mazzers. Can't go wrong with the classics.
How is your project considering sustainability?
We do everything we can in the municipalities we find ourselves serving to recycle materials and save our spent grounds, filters, and tea leaves for compost. We recently landed a distribution partnership with Oatly brand oat milk, which we are super excited about.
What's your hopeful target opening date/month?
We opened on July 19th.
Are you working with craftspeople, architects, and/or creatives that you'd like to mention?
We do most of our design and fabrication work in-house. Actually, the founder, Jason Silberschlag designs and builds a lot of the furniture himself. The customer side of the bar and the oversize wheat paste on the wall were designed and installed by us. Our menu boards and bar top were designed in-house then fabricated by this place called Urban Plough in Phoenix. Those guys rock.
Thank you!
The Build-Outs Of Summer is an annual series on Sprudge. Live the thrill of the build all summer long in our Build-Outs feature hub.
The post Build-Outs Of Summer: Cartel Coffee Lab In Austin, TX appeared first on Sprudge.

Source: Coffee News